Coca-Cola reigned 13 straight years atop Interbrand's Best Global Brands list before finally being displaced by Apple in 2013. Today the company retains Interbrand's No. 3 spot behind its partners Apple and Google, with a brand value estimated at $81.6 billion.
Consistency can pay off for your brand, too, if you emulate the best practices of companies that have effectively used consistent branding to cultivate better customer relationships and improve customer perceptions.
Verbalize Your Brand Promise
A brand represents a promise to your customers, says branding expert Bill Marsh, Jr. For instance, Coca-Cola promises to inspire moments of optimism and uplift, while the NFL promises to bring people together socially and emotionally. In both cases, the companies' promise focuses on the brand's emotional benefit to its customers rather than on its product's features.
Ecommerce branding authority Richard Lazazzera recommends using a three-part formula to verbalize your brand's promise, borrowed from digital futurist author Brian Solis. Your brand promise should express:
How you will impact your customers
Who your market is
What outcome you will deliver
For example, Nike promises to bring inspiration and innovation to every athlete in the world by delivering an outcome of authentic athletic performance. In verbalizing your brand's promise, you cultivate brand consistency by setting the customer expectations your company aims to live up to in your relationships with your customers.
Use Consistent Brand Elements
Delivering your brand consistently includes being consistent about the look, feel, tone, and vocabulary you use when presenting your company to your customers, as this will drive customer perceptions. Rand Group multimedia director Bryan Villanueva says that keeping your brand consistent requires standardizing five key brand design elements:
Imagery
Colors
Core message
Typography
Audience
Villanueva recommends developing corporate brand standards guidelines to ensure company-wide consistency. For instance, Adobe publishes a 62-page corporate brand guidelines manual that lays out how its representatives should handle these elements.
Your brand elements should be presented consistently throughout all your company's marketing and communications materials, including websites, social media profiles, email, letterheads, press kits, and product packaging. Brand management software tools such as digital asset management app WebDAM can support branding consistency by providing a central platform for storing, managing, sharing, and publishing the elements that represent your brand to your customers.
Deliver a Consistent Customer Experience
How you make customers feel during your customer service interactions also affects your brand's consistency. Apple, today's top brand, emphasizes this component of brand consistency by laying out a five-step customer service formula in its employee training manual. Apple representatives are to approach customers with a warm, personal welcome; probe politely to understand customer needs; present a solution for customers to take home; listen for any issues that need to be resolved, and end the interaction with a fond farewell and invitation to come back again. Laying out these types of customer service guidelines can help ensure that your customers receive a consistent experience when interacting with your brand.
Build Trust Through Transparency
Nobody's perfect, and no company lives up to their brand's expectations 100 percent of the time. Fortunately, in an era of reality TV, nobody expects anyone to be perfect and acknowledging that you're human can actually enhance your customers' trust by building transparency. Burrito chain Chipotle Mexican Grill has thrived by embracing transparency, becoming the first major food chain to publicly disclose menu items that use genetically modified organisms.
By admitting that it still falls short of its goal to eliminate GMOs from its menu, Chipotle has portrayed itself as being in a state of constant improvement, positioning itself against competitors that are less forthcoming about their ingredients. Being transparent when you don't measure up to your branding expectations builds trust by letting your customers know that you remain committed to living up to your brand's promise.
---
Guest Blogger: Roy Rasmussen
Roy Rasmussen, coauthor of Publishing for Publicity, is a freelance copywriter who helps small businesses get more customers and make more sales. His specialty is helping experts reach their target market with a focused sales message. His most recent projects include books on cloud computing, small business management, sales, business coaching, social media marketing, and career planning.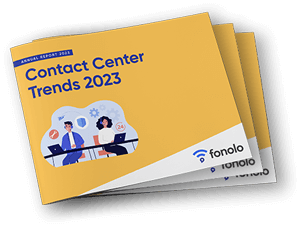 Trend Alert! Contact Center Industry Predictions for 2023
This report offers perspective on where the contact center industry stands today, plus our trend predictions for 2023.