Facebook is constantly redefining the social media game, and the popular networking site's recent foray into e-commerce, via its base of business "like pages", is no exception. While recent changes to the Facebook business algorithms and advertising have a lot of companies rethinking their social strategies, the same customer service motto still rings true: Communication is key.
Here are four classic Facebook principles with the new rules and trends in mind.
Redefine Relevant Content
Make sure that your profile is as complete as possible, including hours of operation, email, mission statement and links to all your social media. You need this information to show potential customers that you're a real-life reputable business and inspire trust. And keep your brand top of mind with consistent, relevant and diverse content.
Lifelock is a great example of using outside relevant content to make its page a valuable resource. Customers count on it to keep them educated on current identity theft issues throughout the year.
Videos are a great way to engage and educate customers. Having a list of video responses prepared to answer frequently asked questions is a great way to cut down on call volume. Whether you produce your own videos or find examples on YouTube, get inside the mind of your customer to find relevant content to share regularly.
Respond & Engage
Seems like a no-brainer. But even if viewers are just making a comment on one of your posts without asking a specific question, it's a good idea to acknowledge them and let them know that there is an actual person who is there to help. If a viewer shows interest or excitement about a product, there's no shame in rejoicing with them and encouraging more interaction. This kind of engagement is the number-one thing that will make your Facebook page pop up in other people's news feeds.
And while we are talking about news feeds, Facebook has made some changes. Now only select posts from your page that Facebook deems relevant shows up in the news feeds of the people who have liked your page (Likers). An easy way to get your posts seen by more of your Likers is to let them know about this change so they can visit your Facebook page and turn the notifications on.
Never Miss a Message
Never let messages go unread or unresponded to. It's easy to read a message, respond mentally, and then forget it. Stay on top of it by deleting spam, archiving important messages and keeping your inbox entirely uncluttered. You don't want to miss losing out on helping a disgruntled customer, only making them feel more ignored and disrespected.
Commerce is Conversational
Facebook messaging is also a way to simplify the ordering process according to Mark Zuckerberg. Instead of requiring customers to log into an account on the website and go back and forth, the new e-commerce platform makes buying online more personal through instant and private messaging.
---
Guest Blogger: Stacy Eden
Stacy Eden is a Phoenix, Arizona native with a passion for art, power tools, and historical significance.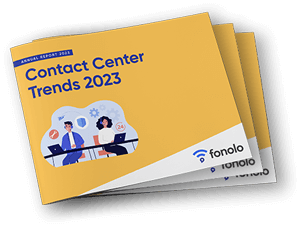 Trend Alert! Contact Center Industry Predictions for 2023
This report offers perspective on where the contact center industry stands today, plus our trend predictions for 2023.