If you make a list of life's most important lessons, odds are this one is near the top: "No matter how good you are at something, there's always someone better".
In business, as in life, it's of paramount importance to know that the race to be the best is a marathon, not a sprint. And, more to the point, that there's always something you can learn from your competition … especially about delivering customer service!
To keep you inspired, here are 10 things your competitors can teach you about customer service:
1. Be friendly and compassionate
You don't need to be a rocket scientist to understand that being friendly to customers goes a long way towards creating an excellent customer experience. Does your competition do a better job at engaging customers when they contact you? If so, learn how to do it better.
2. Ask for customer feedback
You can't fix what you don't know is broken (or needs improvement). Getting feedback from your customers is key to implementing the right kind of change. Your competition does this, so learn what they know and keep your best foot forward.
3. Be where the customer is
Multi-channel isn't just a buzzword, it's a way of reaching your customers in places where they spend the most time. But delivering customer service over multiple channels (chat, mobile, social, voice, etc.) is harder than it sounds. (Getting it right certainly is.) So look to your competitors to see how they're tackling this challenge, and learn from their successes.
4. Exceed customer expectations
Easier said than done! But knowing what customers want and expect is the first step – something that's critical to delivering good customer service. Do your competitors "go that extra mile", "take that extra step", or otherwise perform some other greatly overused metaphor to keep their customers happy? This is one area companies can learn a lot from others.
5. Take a new approach
This is where it gets harder: keeping up with new trends and technologies in customer service is a full-time job. While absorbing industry data via whitepapers and webinars is a must, many companies don't fully look at what their competitors are doing until it's too late. Always be watching … and learning.
6. Keep customers happy
Customer satisfaction is a broad topic, something that touches on more than just customer service however, it's where the journey starts. Whether it's eliminating hold-time from your call center or resolving their issues on the first call, creating a happy customer is the first step to creating a loyal customer – one who will stay with your brand for the long term. (And if  you do it right, they'll tell their friends, too.)
7. Be a leader
Whatever industry you're in, it pays to be a leader in the space. These days, every company is competing to establish themselves as a "thought leader" or a "foremost expert". Find out why people respect your competitors, and you'll be a step closer to upping your game.
8. Work under pressure
In business as in life, we're often judged when we're at our worst. Working under pressure is what separates high performing organizations from the wannabes. In this regard, we all have much to learn from others.
9. Learn from their mistakes
We all make mistakes … luckily, our competitors do too! Always be watching.
10. Go with your strengths
It was my mom who first told me, "be who you are". She meant, of course, to lead with your strengths and be the best you that you can be. If you don't know what your strengths truly are, look to your competitors – they can teach you what you're better at. (And of course ask the customers that choose you over them.)
Remember: the key to learning from your competitors is staying open minded. As Frank Zappa once said,
A mind is like a parachute. It doesn't work if it is not open.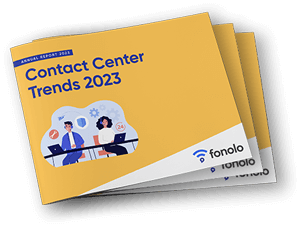 Trend Alert! Contact Center Industry Predictions for 2023
This report offers perspective on where the contact center industry stands today, plus our trend predictions for 2023.