Most businesses will claim that meeting customer expectations through a profound experience is a top priority. It's a smart move, since 87% of customers think brands need to put more effort into providing a seamless experience. But achieving this is no small task.
As a Customer Experience Manager, I'm certain you're asking the question: How do customers perceive the interactions with my brand? Let's tackle 4 simple tricks to answer this question and ultimately perfect the customer experience.
Empower Agents
Agents who are truly engaged will always be your top performers. Empower your reps to make out-of-the-box decisions and keep them informed using the right technology. A customer shouldn't have to deal with more than one rep when getting an issue resolved, and your employees should have the proper tools in place to handle the inquiry.
Let agents investigate the experience so when they talk to customers they can personalize the approach. If agents have access to customer insight they'll be able to tailor the experience to highlight features that actually matter to the customer.
Lastly, put a rewards program in place. If agents fully embrace your customer experience mantra they should be rewarded – it's that simple.
Try it Yourself
Have you personally tested the customer experience for your brand? Discover a common problem and try solving that issue through self-service, social media or through calling your contact center. What happened? Did you enjoy the process? Was it easy and pleasant?
There's truly no better way to understand the support experience if you haven't tried it yourself. You will learn a lot about your customers, your agents and how well equipped you have made those agents to handle customer queries.
Audit Your Customers
The best way to collect customer feedback is to make it easy for them to share their experiences as they occur. According to Loyalty360, you should focus on providing the right survey, at the right time, to the right customer. Ask questions that are specific to the customers interaction, request feedback within a specific time of the transaction taking place, and manage your customer sample to ensure that the same customers are constantly being surveyed (this will help with tracking trends).
The most important part is measuring the results of your survey and enforcing change where change is due. Which brings us to our last trick….
Stay Focused on Change
Use analytics to translate customer feedback into key performance metrics and dashboards that inform the entire organization. Keep employees, key staff members and your CEM team on board with your goals. Enforcing change with CEM initiatives is not only ongoing, it's critical to the success.
Keep in mind; to tackle these tricks successfully you need to focus on both customers and employees. This is where the majority of company's fail with their CEM objectives.
Good luck in your journey 🙂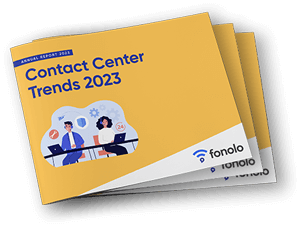 Trend Alert! Contact Center Industry Predictions for 2023
This report offers perspective on where the contact center industry stands today, plus our trend predictions for 2023.