Today's news release announced some exciting news – for the second consecutive year, CIOReview has selected Fonolo as one of the 20 Most Promising Contact Center Technology Solution Providers. The annual list of companies is selected by a panel of experts and members of CIOReview's editorial board to recognize and promote technology entrepreneurship.
"Fonolo has been on our radar for quite some time as the pioneer of cloud-based call-backs. We are happy to showcase them this year because of their continued success in developing the most advanced technology-driven customer experience solutions," said Jeevan George, Managing Editor, CIO Review. "Fonolo continued to break new ground in the contact center space within the past year, benefiting its customers around the globe. To have them listed as one of our top companies is a well-deserved accolade."
We are honored that Fonolo has been selected as the recipient of this award by CIOReview's panel of experts and thought leaders. With the enormous growth in technology, businesses are focusing on improving efficiencies and cultivating the customer experience. Our mission at Fonolo is to make it easy for call centers to add features like call-backs, virtual queuing and Web Call-Backs (formerly Visual IVR) with minimal effort by utilizing cloud-based technology.
Shai Berger
CEO, Fonolo
This distinction is awarded to Fonolo for being a leading provider of cloud-based call-back solutions.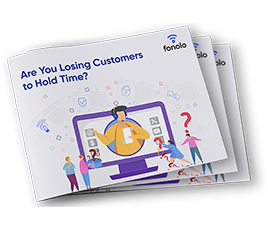 Are You Losing Customers to Hold Time?
Download our free whitepaper and learn about the best way to eliminate hold time and improve the customer experience.