At Fonolo we always try to deliver valuable and relevant content to all of our blog followers (For example: Why 80/20 is Probably the Wrong Service Level for Your Call Center by Shai Berger). But there's also power in numbers; that's why we've compiled a list of the best blogs to follow so that you're always up-to-date with the latest tips, trends, and technologies in this space.
1. Aspect
Aspect's blogs share and comment on technology news, trends, real-life customer experiences, and best practices for organizations embracing the power of unified communications across the contact center. At Aspect, you'll find countless up-to-date entries by a host of bloggers who focus specifically on the contact center industry.
Recommended Reading: 5 Facts About Cloud Contact Centers
2. The Call Center School
The Call Center School is armed with e-learning tutorials for contact center agents to help them remain on the cusp of customer service techniques. So, it makes sense that this blog is geared towards helping companies assess whether their agents require additional training or are in need of a refresher to help turn their contact center agents into lead generators.
Recommended Reading: Does e-Learning Really Have a Place in the Contact Center
3. Ameyo
Ameyo provides consistent weekly updates about contact center technology, best practices, and agent engagement techniques. The blog tends to favour a 'listicle' format, and includes infographics that help break down your most complex contact center concerns into seamlessly consumable content.
Recommended Reading: 10 Ways to Reduce Average Handle Time in a Contact Center
4. Monet Software
Monet Software's blog is updated almost daily and provides practical information on all aspects of workforce management for contact centers, including quality monitoring, call recording, performance management and analytics.
Recommended Reading: Run Your Contact Center Like a Football Team
5. USAN

USAN's blog titled "Engage" is a comprehensive collection of posts divided into four sub-blogs: omnichannel, contact center, workforce optimization, and customer self-service (IVR). Its call center sub-blog has 45 categories to choose from across key areas. USAN has no shortage of insightful entries to choose from for a contact center professional.
Recommended Reading: No Doubt About IVR In The Cloud
6. Contact Center Pipeline
Contact Center Pipeline is a monthly journal focused on the specific needs and challenges of the contact center. Their contributors provide a unique understanding of what makes the call center the organization's driving force for service delivery, aligning customer experience and ensuring long-term business success.
Recommended Reading: What You Need To Know About Omni-Channel
7. ICMI
Chock full of sophisticated resources, ICMI has curated a blog with a wide range of guest bloggers in the contact center space. You'll frequently find informative new content from a diverse group of influencers, plus interactive polls and forums offering a lively discussion.
Recommended Reading: Enterprise Gamification: 5 Trends to Track
8. Envision
Envision is your one-stop-shop for informed and up-to-the-minute contact center wisdom. Split into five separate sections, its contributors offer content on customer service, agent performance, contact center technology, and coaching techniques.
Recommended Reading: Contact Center Agents Have Spoken: They Want Better Technology
9. Customer Relationship Metrics

If you prefer to consume information visually, Customer Relationship Metrics has you covered. Their up-to-date video case studies, webinars, and whitepapers cover a variety of topics from contact center training, operations, and benchmarking.
Recommended Reading: Unearthing Agent Coaching Time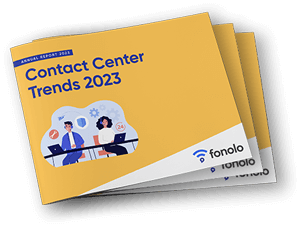 Trend Alert! Contact Center Industry Predictions for 2023
This report offers perspective on where the contact center industry stands today, plus our trend predictions for 2023.