The relationship between Twitter and the call center industry has been fascinating to watch over the last few years. If you asked anyone in 2008 what impact the newly hatched "micro-blogging" system would have on customer service, you would probably have gotten blank stares. Yet here we are: 43% of the Interbrand 100 companies have dedicated Twitter handles for customer service (according to SimplyMeasured).
Meanwhile, the call center has been grappling with the biggest challenge it has faced since its inception: Learning how to interact with consumers on a growing number of channels. What makes this challenge really tough is managing customer interactions that span multiple mediums, often as part of the same transaction. More and more, Twitter is part of that cross-channel journey.
Twitter's Contribution
Twitter plays two roles.
It is as a customer service channel all in itself; and
It is a way to complain about the dominant service channel, which is still the plain 'ole phone call.
One would think that a communication system where all interactions are public by default would not be a fit for customer service. Surprisingly, that public nature was actually the key to the phenomenon. Consumers quickly realized that complaining on Twitter could be very effective precisely because complaints and requests were public. Companies had to respond, or suffer damage to their brand.
For decades, consumers had to tolerate many frustrations related to the call center experience: Infuriating phone menus ("press 1 for this, press 2 for that…"), being left on hold endlessly and then repeating information to agents.  Social media, and Twitter, in particular, changed the balance of power by giving consumers a public soapbox on which to complain.
This new-found power has materially changed the way companies allocate resources to their call center. Hold time statistics (properly known as ASA or "average speed to answer") are no longer just numbers in an end-of-week report. Rather, they have a direct impact on consumer sentiment.
To get a taste of "tweet rage", check out onholdwith.com, which aggregates a live feed of everyone complaining about being on hold.
Twitter's Embracing It
It's been a rough year for Twitter, with a stock price down 18% and an ousted CEO. In its search for boosting engagement, I was thrilled to see a new enthusiasm for their role as a customer service channel. I have long advocated that this is a unique value that Twitter has over other social media networks and hoped that they would build specific customer-service features. The recent release of a 100-page "playbook" called Customer Service on Twitter shows that there is some deep thinking on this topic at Twitter HQ.
The playbook's author, Jeff Lesser, recently did a podcast with Dan Gingliss, covering Twitter's journey with customer service so far. In it he states,
We're really excited about the opportunity to make Twitter the best place in the world to both do and receive customer service…  On Twitter, when you reach out and you create that great experience, thousands of people can see that…
The playbook also includes some great data about the growing amount of tweets directed at B2C companies.
But There's Still More to be Done
With a new CEO in place, the industry is anticipating some product changes. Yesterday, the long-awaited Moments feature was released. Now there are rumours that the iconic 140-character limit may be lifted. I hope this spirit of innovation can be extended in the direction of customer service.
One area that needs to be addressed is the Direct Message (DM) system. Today, when you want to take your conversation private you switch to DM's. But this was designed with person-to-person interactions in mind, so you can only interact if you're following the other account and vice versa. This is problematic for B2C interactions.
One way to address these challenges would be allowing companies to designate a customer service account that would have "special powers" including an unlocked DM system.
What else would it offer? Well, imagine if Twitter enabled an escalation-to-voice button that could be connected to the company call center (via call-back of course). This could be a natural extension of the recently launched "buy" buttons.
At this moment, providing customer support on Twitter is a must-have for companies. After all, that's where the customers are. But, if Twitter doesn't take the lead on this front, Facebook (with their Business on Messenger program) and other chat providers will start to erode that lead. The right move could create a new revenue stream and lock-in Twitter's role as the best text-based channel for customer support. If that's where customers go for support, that's where they'll go to purchase too, so the stakes are pretty high.
Call Centers Are Coming Around
What about the other side of this equation, the call centers? Well, today their focus is still primarily the voice channel. This makes sense given that phone calls still dominate inbound requests (accounting for 80.4% of them according to Contact Babel).
However, forward-looking call center managers can see the increasing importance of social media to their customers. Industry group ICMI recently released out their Extreme Engagement Report in which they talked with 360 people, more than 2/3 of who were call center managers and executives. They asked about attitudes towards social media and, as you can see above, a strong majority felt that it adds value either to the caller, the call center, or both.
Who would've thought that service designed for friends to share "status updates" would lead to the upheaval of the call center industry? We are experiencing an epic transformation in how companies interact with their customers.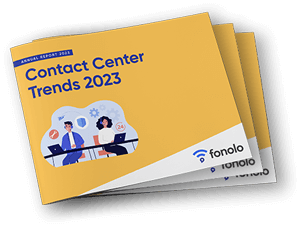 Trend Alert! Contact Center Industry Predictions for 2023
This report offers perspective on where the contact center industry stands today, plus our trend predictions for 2023.