To win customers for your business, you have to differentiate from your competitors. What can you do better than they can? Is it lower prices? More features? Better marketing? Better customer service? These are all battlefronts in modern business warfare. But that last one – customer service – has become more dominant in recent years.
89% of marketing leaders expect to compete primarily on the basis of customer experience by 2016, as compared with 36% four years ago. Another report claims that, by 2020, customer experience will overtake price and product as the key brand differentiator.
Businesses are responding by spending more on customer service. In particular, 68% are increasing their investment in this department. Once the decision is made to spend more on the call center, the key question becomes, "What technologies will yield the most improvement in customer experience for the least cost". Many vendors are competing to be the answer to that question, offering exciting new technologies like speech analytics, gamification, virtual queuing,  intelligent assistants, social media monitoring, voice biometrics. Along with these are tried-and-true products like workforce management, IVR, outbound notification and knowledgebase management.
There are three main reasons why organizations should focus on improving the customer experience:
Drive customer loyalty
Increase customer acquisition
Improve customer retention
According to Forrester, organizations that offer a better customer experience have more customers who say they are willing to buy from them again. However, if that experience is poor, 89% of consumers are likely to buy from the competition.
Earlier this year, Salesforce Research surveyed around 2000 global customer service leaders. In their report, they state that a dominant factor shaping consumer behaviours and expectations is the experience they have on smartphones and connected devices. They state "companies are reaching a tipping point, recognizing that they need to transform how they engage with customers and deliver customer service… top customer service organizations are aggressively adopting technology to respond to customers' expectation of a fast and personalized experience across all devices and channels."
What does it take to deliver a superior customer service experience? That bar is constantly rising and consumers have become much more demanding. This is especially true when it comes to phone-based service. A study from YouGov shows that 76% of respondents said, "Just one unpleasant contact center experience was likely to make them take their business elsewhere".
But the telephone is only one of many channels through which today's consumers seek to interact with companies. In fact, the central challenge in providing customer service today is juggling all the communication "channels" that consumers like to use: email, chat, social media, SMS as well as the plain 'ole phone call. SMS, in particular, has been playing a growing role in this channel "mix".  A recent study by Harris Interactive showed that 64% of consumers would rather text a company than call in. That's a big demand for a channel that wasn't even on the radar for most consumers 5 years ago!
As companies adapt more channels, keeping uniform policies and messaging across all of them can get very tricky. Customers quickly learn if service is better in one channel versus another, leading to channel switching and duplicated work. Improving the customer experience is an ongoing process, constantly changing and transforming how companies do business.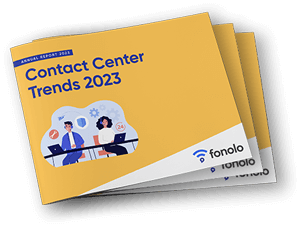 Trend Alert! Contact Center Industry Predictions for 2023
This report offers perspective on where the contact center industry stands today, plus our trend predictions for 2023.