Fall is in the air, and with it comes the promise of Thanksgiving! Thanksgiving is a time to put aside the cynicism and negativity of everyday life and be thankful for the upstanding customer service interactions that are sometimes ignored in the media in favor of more attention-grabbing negative headlines.
Here are 3 companies we should be thankful for.
1) Grateful to Lego
A seven-year-old named Luke (kids make for the best customer service stories!) was shopping with his dad when his favorite Lego figure dropped out of his pocket, never to be seen again. His dad suggested they send the Lego company an email requesting a replacement Lego figure, and they did. They were blown away by the response – not only did Lego respond to the email but they also sent three variations of the Lego figure that Luke lost AND threw in a bad guy for him to fight! I think I know what Luke will be playing with at the Thanksgiving table this year.
2) Thankful for Trader Joe's
A
n 89-year-old man was stuck at home in a winter storm in Pennsylvania. Too scared to take to the icy roads, he was afraid that he would run out of food. He called grocery chain Trader Joe's to ask if they delivered. The customer service representative told him that normally they don't, but because of his situation, they would make an exception. They even suggested various foods for his low sodium diet and dropped the groceries off at his doorstep 30 minutes later. The kicker? It was all free! Now, if only every grocery store would offer a one-time delivery option — how wonderful would it be to have Thanksgiving ingredients dropped off at your door!
3) Cheers to Jimyz's
A man named Xander in a small city in Ohio took his car into an auto garage called Jimyz for a quick fix. When he went to pick it up, the mechanic had left him a handwritten note on stationary expressing his gratitude for being allowed to work on the man's car. It was a simple gesture that only took a minute or two, but was so nice and sincere that it probably gained Jimyz a lifetime customer. Heck, maybe Xander will even invite the staff at Jimyz to dine at his Thanksgiving table this year.
As you get ready to prepare your cranberry sauce and potatoes, your stuffing and pumpkin pie, we hope you've enjoyed a look at some of the positive customer service experiences that we can all be thankful for!
---
Guest Blogger: Amy Clark
Amy Clark is the lead author and editor of two customer service blogs – I Want It Now, which examines the era of instant gratification, and Self Service Central, which provides her thoughts on how best to help customers assist themselves online. She also serves as the Customer Success Director at WalkMe.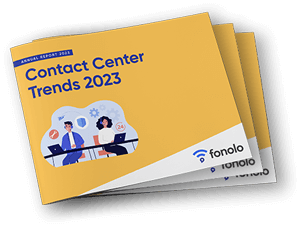 Trend Alert! Contact Center Industry Predictions for 2023
This report offers perspective on where the contact center industry stands today, plus our trend predictions for 2023.