Anyone who's ever worked in customer service this time of year can understand the madness that looms ahead. Customers compete with each other to be the first ones out of the gate to score the best deals of the year.
Consequently, if your company's customer experience journey somehow interferes with providing a seamless transaction – resulting in a lost deal – there will be hell to pay. And it's no secret that customer service agents bear the brunt of any customer experience catastrophe.
This is why it's so important to implement solutions that can alleviate the stress for both the customer and the service agent.
Where do you begin to prepare for a surge in consumer demands? Well, you can bet your bottom dollar that customers will attack every avenue of communication available to them in order to have their concerns addressed.
This includes: social networks, mobile apps, online chat, and your contact centers. So, how can your business ensure each service channel is delivering successfully? It's a holistic solution, a three pronged strategy if you will, but each can work independently if you haven't jumped on the omni-channel bandwagon yet.
Check out these 3 easy-to-deploy solutions that can help keep your customers and agents calm, not only on Black Friday, but all year round:
Give callers the option to receive a call-back when hold times are too long. Let them "press 1 to get a call-back from the next agent". The overflow of call volume will surely create an overwhelming amount of traffic in your contact centers. Despite proper staffing, you're bound to run into some unexpected spikes and this is your way of saying: We want you to continue shopping, you don't have to abandon your cart, and we'll handle your issue ASAP.
Key Benefits:
Integrates Easily: Hooks into your existing call center infrastructure. All of your business processes remain the same.
Improves the Customer Experience: Give customers back what they value the most – their time. Let them schedule a call-back when hold times are too long.
Reduces Cost-per-Call: Realize lower handle times, abandon rates and telco costs.
NOTE: Web Call-Backs, formerly known as Visual IVR, is the updated name for this Fonolo solution.
Let customers easily connect to a live agent, directly from within your mobile app. With one tap on their smartphone they can request a call-back and avoid hold time. This is an effective and intuitive solution that can help eliminate cart abandonment and immediately have their issue addressed without searching for a customer service hotline.
Key Benefits:
Easy to Use: Give mobile customers a simple and intuitive way to request a call-back from a live agent.
Works with any App: Offer customers live assistance from within any mobile application on any platform.
Connects to Your IVR: Automatically navigate callers through the IVR. No need to install any additional hardware or software.
Enable customers to seamlessly transition from web to live assistance. Offer them a call-back and let them fast-track the IVR with just one click. Let's face it, the majority of Cyber Monday deals will be done through web browsing. This is another great way to speed along any hiccups in the customer experience and complete the transaction in a timely fashion.
Key Benefits:
Connects Easily: With just a few lines of code, add a widget to your website that allows customers to request a call-back.
Works with Your IVR: Automatically navigate callers through the IVR based on their web context. No need to install additional hardware or software.
Empowers Agents: Pass customer information from web sessions to your agents and improve their efficiency.
If you're not sure which solution works best for you or if you should deploy more than one, it's a great idea to book a demo with a sales rep first, and keep calm, we'll call you back ;)!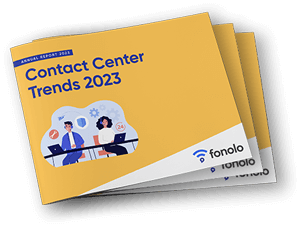 Trend Alert! Contact Center Industry Predictions for 2023
This report offers perspective on where the contact center industry stands today, plus our trend predictions for 2023.