Are you ready to shift your customer experience management (CXM) into high gear? Customers are more demanding than ever, and with endless channels to vent their frustrations (and applauses) through, it's your job to stay sharp and navigate the customer journey effectively. In addition to this, Salesforce reports that "89% of customers have stopped doing business with a company after experiencing a poor customer experience".
We see you sweating. Don't worry. In this blog we'll share a collection of customer experience cheat notes to help you manage your KPIs effectively.
Let's start off with this Customer Experience Cheat Sheet by Kamplye; a great reference point for targeting and overcoming common customer experience hurdles.
This chart is a fantastic place to begin, but it's important to recognize that every organization is unique, and can benefit from creating its own internal cheat sheet specific to its company's KPIs.
To effectively achieve this, start by journey mapping the customer experience.
Uncover the truth – Study customer behavior and interactions across channels
Chart the course – Collaboratively synthesize key insights into a customer journey model
Tell the story – Visualize a compelling story that creates empathy and understanding
Use the map – Follow the map to new ideas and better customer experience
Now that you have a cheat sheet for mapping the customer journey, you can develop a dynamic checklist to satisfy your customers' needs. Don't worry; we have an example for that too.
At this point, it may seem like you've come a long way in developing the CX process, but you're still missing the biggest piece of the puzzle; your staff. They are the glue holding every piece of the customer experience together, so it's important to determine whether or not your representatives are willing to deliver exceptional results.
Establish and continuously improved the corporate culture in your company
Hire the kindest and most charismatic individuals who will generate positive experiences
Be sure your workers are proud of their employment
Provide training and development opportunities
Use a winning compensation plan (fixed salary + commission rate) to stimulate salespeople for generating higher sales revenues
Add fun to the work environment to make routine operations more bearable
Your key objective is to create "wow" experiences for your customers; those are not only the moments they spend with your company but the reputation reflected within your organization. If customers recognize that you treat your employees mediocre, they'll assume you'll treat them the same. So, I think you can interpret why the relationship you have with your employees is so important in the entire customer experience cycle.
By following these cheat notes, customizing them to meet your organization's needs, and engaging your employees to effectively communicate memorable experiences, you can help narrow any gaps in your CX dramatically and outperform your competitors.
Remember, even though you have the cheat sheets, you still have to fill in the answers 🙂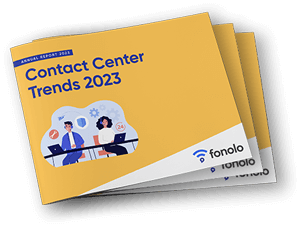 Trend Alert! Contact Center Industry Predictions for 2023
This report offers perspective on where the contact center industry stands today, plus our trend predictions for 2023.