Now that the end of the year has neared, we've evaluated what blogs you thought were the most captivating and helpful for advancing customer service. These blogs were chosen by you as the most popular Fonolo posts of the year! We're so thrilled you enjoyed reading all of our educational content, and hopefully reading about our super cool call-back technology was fun as well.
Take a peak at the blogs that made our top 5…you might learn something you didn't know the first time around!
Here we tackle the challenges of the increasingly complex customer journey and how to deliver consistent service in a multi-channel environment. With rising consumer expectations for rapid and hassle-free customer service, companies are focusing more on resolving this challenge. In this blog, we use images to clearly identify what these challenges look like and how to resolve them.
Did your company have a great year for customer service? Did these statistics point you in the right direction? Check out these 8 interesting stats to get you thinking about customer service and review what you think worked and what could be done differently in 2016.
In recent years, consumers have become much more demanding of a flawless customer service experience. Delivering such an experience has become vital to business success, but understanding all the factors that contribute to a positive customer experience is daunting.  Here we uncover 7 videos from industry experts to help frame your thinking.
This is part one of a four part series where we explore the benefits of deploying call-backs in your call center. When deployed correctly, call-backs can deliver concrete ROI through several paths: lower abandon rate, shorter handle time, reduced telco cost and more consistent call volume. In this blog we explain the mathematical reasoning behind how lowered abandonment rates can save your company money.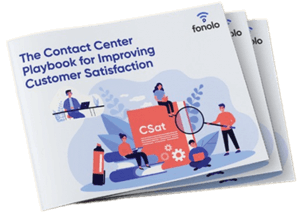 The Contact Center Playbook for Improving Customer Satisfaction
In this handy playbook, contact center leaders will learn the ins and outs of improving customer satisfaction.