Welcome to 2016, also known as the year of the customer! Gartner predicted that in 2016, "89% of companies will compete mostly on the basis of customer experience."
Today, price and product no longer lead the way as a competitive differentiator, rather seamless and transparent experiences will rule the roost when it comes to brand loyalty. In fact, 86% of customers are willing to pay up to 25% more for a better customer experience.
So, what exactly do customers value the most when it comes to their experiences with a company?
The Problem
According to a survey carried out by American Express, the most cringe-worthy phrases customers don't want to hear are:
"We're unable to answer your question. Please call xxx-xxx-xxxx to speak to a representative from xxx team."
"We're sorry, but we're experiencing unusually heavy call volumes. You can hold or try back at another time."
"Your call is important to us. Please continue to hold."
It's not hard to find similarities in these sentiments and to conclude that waiting on hold is by far one of the greatest reasons for customer dissatisfaction. More precisely, 25% of customers have switched companies purely because they're tired of being kept on hold. In the last year, 67% of customers have hung up the phone out of frustration that they could not talk to a real person, and 75% of customers believe it takes too long to reach a live agent.
As much as Drake's famous song "1-800-HOTLINEBLING" popularized the phrase, it's origins are very different and slightly less glamorous. Customer service agents everywhere know exactly how it feels to bare the brunt of spikes in call volume aka "the hotline bling" and customers know the 1-800 number has always been a source of headache for them. So, will 2016 – the year of the customer – be the year of the 1-800-CALLBACKBLING? We think so and recent reports have proven they're on the upswing for customer service in 2016.
The Resolution
Call-backs allow your agents to manage inbound calls and treat each customer service inquiry individually. In turn, they provide more customized customer service experiences, boost agent morale, and reduce the likelihood that customers will vent their frustrations using social networks. But don't take my word for it, take a look at these webinars from Fonolo clients, Credit Union of Colorado and Suddenlink, after they deployed callbacks in their call center:
Welcome to 2016 or better yet, the year of the call-back!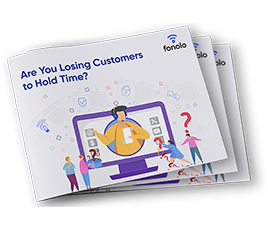 Are You Losing Customers to Hold Time?
Download our free whitepaper and learn about the best way to eliminate hold time and improve the customer experience.