Customer loyalty is the backbone of any successful business. It is also the key to profitability. Statistics show that attracting a new customer can cost up to 30 times more than keeping an existing customer, according to The Chartered Institute of Marketing, and most industries will spend five to seven times more money. Moreover, businesses rarely break even with one-time customers. It can take 12 to 18 months for a retailer to break even with a repeat customer. The stats are even grimmer for online retailers. According to a study conducted by Bain, "Except for high-ticket items, in almost no instance can an online retailer break even on a one-time shopper." Let that one sink in for a minute.
Call centers are ground zero for customer service. So, it is imperative that companies focus on this area of their business. Customers expect answers and great quality service. In fact, 70% of customers surveyed said they would likely take their business elsewhere if call center agents could not answer their questions, according to Parature. The same survey found that, over the past year, 62% of those surveyed had actually switched brands because they were unhappy with the service they had received. You have to get customer service right if you are going to build a loyal fan base. So, unless you like to lose money, we suggest you take note.
Personalize, Personalize, Personalize
Your customers want to feel special. Yes, really. This can be challenging if you are just winging it. However, there are a few steps that you can take to structure your call center. First off, and this should be evident, your call center agents need to be trained to be courteous. Secondly, provide a higher level of personalized customer service by utilizing software that caters to providing personalized service. We like Aspect, Zipwire's cloud call center software. It's a scalable, easy to deploy and 100% cloud-based.
Take Care of Your Agents
Happy agents equal happy customers. Studies have shown that call center agents quit most often because of their work environments rather than their compensation. There are numerous steps an employer can take to provide a great work environment, including providing incentives, company parties and more. Most importantly, just be nice. It's the right thing to do and will help your bottom line.
Offer Training and Professional Development
A well-trained staff makes all the difference in the world. They are more efficient, able to provide better service and more likely to stay with your company. All of this translates into superior customer service, which creates the loyal customer base you desire. Although an extreme case, take the Starbucks College Achievement Plan as an example. The company has committed to provide at least $250 million to the program, which pays for its associates to attend Arizona State University (online or in-person) for free. Do you think these are happy employees who will show loyalty to the company? Of course they are. Provide training opportunities to your employees and you will see your customer loyalty increase.
Guest Blogger: Alex Clark-McGlenn
Alex Clark-McGlenn is currently taking his MFA in creative writing from the Northwest Institute of Literary Arts. He has been published in eFiction Magazine, Inkwell at Evergreen, Slightly West Literary Magazine, and appeared in Smokebox Literary Magazine July, 2014. He currently lives in Seattle, Washington.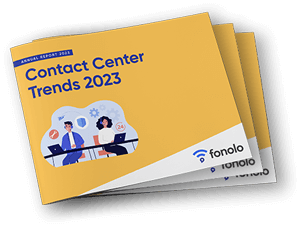 Trend Alert! Contact Center Industry Predictions for 2023
This report offers perspective on where the contact center industry stands today, plus our trend predictions for 2023.