Fonolo is proud to be a part of Call Center Week Winter, January 26-29, 2016 at The Rosen Center in Orlando, Florida!
At Call Center Week Winter, customer care professionals will learn how future success is determined by the ability to meet customer expectations in faster and more effective ways. It also gives attendees the opportunity to meet with more than 500 representatives from various industries including: call center/contact center, customer care, customer service, customer experience, operations, IT/Tech support and more.
Conference attendees can learn more about Fonolo's cloud-based call-back solutions (while having a lot of fun!) by visiting booth #616.
We look forward to participating in the winter edition of Call Center Week and demonstrating how our cloud-based call-back solutions can help call centers reduce abandon rates, lower costs, and improve the customer experience.
Shai Berger
CEO, Fonolo
More information about this event can be found at http://www.callcenterweekwinter.com/. For live updates and insights from the show, follow @fonolo on Twitter.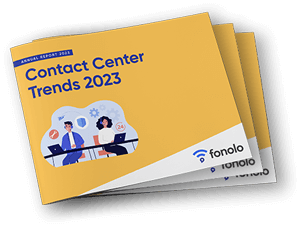 Trend Alert! Contact Center Industry Predictions for 2023
This report offers perspective on where the contact center industry stands today, plus our trend predictions for 2023.