Last week Avaya held their executive partner forum, the most exclusive event for Avaya partners, In San Diego, California. This high-level event was hosted for top partners´ senior executives, top-tier media, and industry analysts. It featured productive business sessions, networking activities and presentations held by Avaya senior leaders.
As an Avaya partner, we always have our ear to the ground, eager to see what they will announce and share with the community. We didn't get to attend in person, but because many of the analysts were live tweeting throughout the event, we got to follow along pretty closely. Here are the major themes that were covered, in the words of the analysts' own tweets.
Avaya's CEO, Kevin Kennedy, did the opening keynote…
#AvayaEPF Pierre Paul-

Allard talks transformation with partners; admits Avaya hasn't been as aligned as it could be; this will now change

— Paul Edwards

(@PaulEdwards_IDC) February 1, 2016

A new focus on verticals was a theme early in the presentations. Sheila McGee-Smith, one of our Top Analysts covering the contact center industry, is always active in voicing her thoughts…
.@Avaya not unique in taking vertical approach

to content
e.g., Healthcare, Education, Manufacturing #avayaepf pic.twitter.com/6TxxbyZLSN

— Sheila McGee-Smith (@McGeeSmith) February 1, 2016

Avaya recently announced a new CMO, Morag Lucy. This was her first appearance at an Avaya event.
@MoragLucey AvayA CMO – "We are

driving demand with our partners and for our partners". #AvayaEPF #growth #partners pic.twitter.com/tS7Zz5eFcs

— Gary Levy (@GaryLevy66) February 1, 2016
She announced an interesting tactic: Avaya will reward partners who bring them  case studies by providing complementary marketing activities.
.@Avaya CMO @MoragLucey trying to drive engagement from partners – rewards for case studies #avayaepf pic.twitter.com/p2dch7mAsI

— Sheila McGee-

Smith (@McGeeSmith) February 1, 2016
Lee Ho just joined Avaya as part of their acquisition of Esna, where he was VP of Marketing. He elaborated on the case study bounty program with this tweet:
#avaya will produce a video

case study for the first partner to bring us a use case #avayaepf

— Lee Ho (@leeho10) February 1, 2016
Gary Barnett is SVP and GM, Engagement Solutions at Avaya. He is leading the charge on Avaya's "Engagement Development Platform" which will make Avaya an open ecosystem for developers to develop "Snap-Ins".  EDP was announced at analyst event at the end of 2014, which we covered here: https://fonolo.com/blog/2014/12/avaya-engages-analysts-weigh-in/
Gary Barnett's 5 key attributes to a relevant solutions #avayaepf @Avaya pic.twitter.com/xoYwlvLmD0

— ZeeMan (@zkerravala) February 2, 2016
EDP has moved rapidly  from concept to reality and now has some real world successes which Gary was happy to promote to the audience:
@garyebarnett opened #avayaepf talk on Software Defined Engagement, "2 Snap-ins walked into a bar…" #hadtobethere pic.twitter.com/l4ZyrAjZT6

— Sheila

McGee-Smith (@McGeeSmith) February 2, 2016
As Irwin says here, EDP is core to their vision.
key takeaway so far is EDP is core to Avaya's go-forward strategy/vision, drives

automation/vertical solutions #avayaepf

— Irwin Lazar (@imlazar) February 2, 2016
A few more points on EDP:
.@GaryEBarnett: IVRs and ACDs and

Dialers have had workflows for years, but they have been hard-coded and siloed by application #avayaepf

— Sheila McGee-Smith (@McGeeSmith) February 2,

2016
.@michiganstateu EDP workflow app

built in 1 hour, deployed 1 week saved $500K. Now have 40 apps running #avayaepf pic.twitter.com/JVJacE58zO

— Sheila McGee-Smith (@McGeeSmith) February 2, 2016
Michigan State University has +40 EDP apps from bikeshop to parking apps – no usage

costs since it's their own on prem solution #avayaEPF

— Dave Michels (@DaveMichels) February 2, 2016

Avaya also unveiled this video promoting EDP:
Finally, Gary Barnett teased an announcement of an "App Store" style experience for finding and downloading Snap-Ins. What do they call it? What else – "Snapp Store". (By the way, Fonolo will have an announcement on this front very soon.)
The importance of the cloud was a strong theme throughout the event. Analyst Dave Michels captured this choice quote:
Avaya is attempting to position cloud as both a revolution and evolution to different sets of customers. #avayaepf

— Dave Michels (@DaveMichels) February 1, 2016
It's interesting to compare that with Dave's tweet from the analyst summit about a year ago:
We are going to start saying sentences that have both "Avaya" and

"cloud" – not something we did often last year. #AvayaEngages

— Dave Michels

(@DaveMichels) December 11, 2014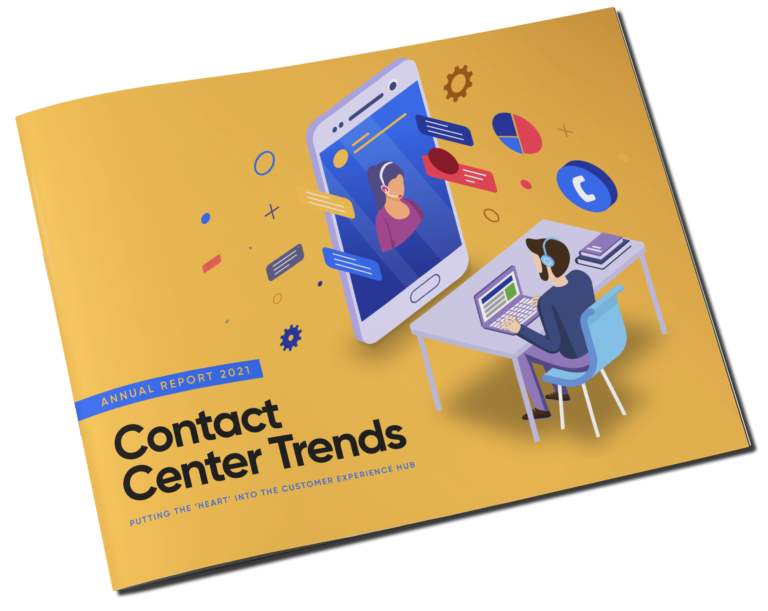 Find Out All the Contact Center Trends in 2021
Find out what trends and changes the contact center faces in 2021