You've got to start with the customer experience and work back towards the technology, not the other way around. – Steve Jobs

The invention of brand new experiences that your customers can fall in love with is no easy task, I mean, even the greatest of visionaries struggle. Sometimes we need a little help in the inspiration department to get our creative juices flowing. That's why we've scoured the interwebs to find out where you can find visually and verbally stimulating content for some serious CX brainstorming. From quizzes, to infographics, to motivational quotes, here's our list of places to find your CX inspiration and bring them to life.
This quiz found in Entrepreneur will motivate you to personalize your customer relationships.
Here you'll find 12 great quotes that will give your customer service agents a bit of a boost.
Discover ways to impress customers of all ages and keep them happy with this fact-packed infographic.
Are you looking for ways to make the user experience better? Here are 6 key steps to take for designing a great UX.
This pictographic by Shane Goldberg is a visually challenging piece. It hits targets that we tend to forget about when it comes to the customer experience.
It's more complex than you think, and this graphical interpretation outlines how to optimize the user experience, and what to consider before you get there.
This is a must-see infographic found in Social Media Today. It captures every single avenue you need to consider when it comes to creating the best customer experiences through social media.
Are you having doubts about investing in the customer experience? Let this infographic by Ekaterina Walter dispel any arguments you or your colleagues might have.
Do you want to quantify spending on the customer experience? This infographic breaks down the monetary returns in 2016.
You'll find a few customer experience infographics here, but we like the "Poised to Disrupt" image. If you're looking for forward thinking customer experience ideas, these are some areas you need to consider.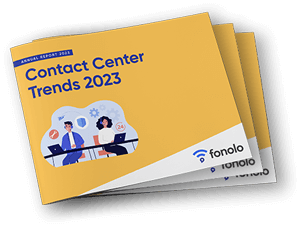 Trend Alert! Contact Center Industry Predictions for 2023
This report offers perspective on where the contact center industry stands today, plus our trend predictions for 2023.