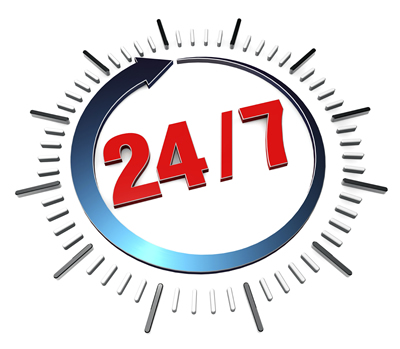 Few people would argue that technology is rapidly changing our culture, but it is the rate at which these changes are happening that may be surprising to some. In five years, it is estimated that our technology will be 32 times more advanced than it is today. Social media is one of the primary drivers of these advancements because it turns every business into a 24/7 global establishment.
Here are 4 things to keep in mind if you want to successfully perform in today's environment.
1. Understand the Disruptive Smartphone
There is more computing power in your smartphone than they used to get the first man on the moon. Just the clock of the iPhone is 32,000 times faster than the lunar landing computers, according to ZME Science. The muscle and wide use of mobile devices are what make smartphones a disruptive technology, which is a technology that creates a new market and changes our culture.
The processing strength and social media connectivity in smartphones mean that you can do almost all of your customer care on an iPhone. It is generally worth the cost to supply key staff with a smartphone and data package. This way customer care can be accessed at all hours of the day or night. Since most consumer issues that require immediate attention are played out in the social media arena, you can use mobile devices and an on-call schedule to demonstrate responsiveness to your customer base.
2. Have Customer Care Live in the Cloud
Another tech tool that many consider as disruptive is 'software as a service' (SaaS). Using a cloud-based care center, a company can share software at a fraction of the normal price. This software can handle much of the customer service functions automatically, giving your business the appearance of around-the-clock interactivity.
SaaS systems have the added benefit of cooperating across multiple functions, including operations, manufacturing and accounting. They can go beyond the normal scope of consumer complaints and address other client needs. This has been shown to increase the overall customer experience, leading to brand loyalty and continued sales.
3. Create a Dialogue
One of the older tools of the Internet age is the forum. Originally, most online communication happened in forum rooms, where everyone could discuss a single issue. Forums are still widely used as part of a continuous customer service program. With forums, you are letting the public-at-large do the bulk of your customer service work. This is a common format in technologically rich environments, such as Microsoft operating systems. There are millions of users that have found issues and either fixed or developed workarounds, and they are happy to share their ideas. They do the talking, and it only takes one staff member from your company to monitor the group, making sure everything stays accurate and on the up-and-up.
4. Let the Users Speak
With more than a billion websites plus Facebook, Twitter and Instagram, you cannot control what people say. Negative reviews should be addressed immediately, and if a solution is found, it should be splashed across social media. You also should encourage positive user content and promote it – a win-win for your business. Make sure this positivity runs across your marketing platforms and be sure to keep your language and branding consistent.
Guest Speaker: Paul Reyes-Fournier
Paul has served as the chief financial officer for social service organizations, churches and schools. He created his own marketing firm, RF Media. Paul holds a BS in physics and an MBA.
Discover the Contact Center Trends That Matter in 2024
Dig into industry trends and discover the changes that matter to your business in the year ahead.