There has been speculation for many years about Salesforce introducing its own call center. The argument is that Salesforce drove the conversion of CRM to a cloud-delivered service and, now that call centers have also crossed the cloud chasm, it's a logical expansion path for Salesforce.
But there's more here than just seeing two pieces of enterprise IT that have both "SaaS-ified". After all, many other IT functions have followed that same path. There's a special relationship between Call center and CRM. The former relies heavily on the latter and the two are getting deeper intertwined. In fact, some people have come to view the call center as simply one of many "front-ends" to CRM. CRM is eating the call center. (Hmmm, sounds like a good blog post title… )
The little-noticed announcement of "Lightning Voice" from Salesforce earlier this month gives another clue towards their strategy. More importantly, it reminds us that Salesforce already has many fingers in the call center pie.
Lightning Voice is CRM-Triggered Outbound Dialing
According to Salesforce Lightning Voice "will empower reps to connect with prospects faster with click-to-call, auto-logging of calls, and call forwarding to take calls from anywhere."
Sound familiar? It's basically the pitch that is the core of many "sales enablement" companies like Inside Sales, Sales Loft, Velocify and Frontspin. Most of these products are tightly integrated with Salesforce, since that's what their customers use for CRM. So Lightning Voice is not just another competitor, it's a competitor with a big advantage. (Also worth noting that Salesforce is a major investor in InsideSales.)
There is definitely a danger of stepping on partnership toes. In fact, that's the dominant thought in two pieces covering Lightning by Lauren Horwitz of TechTarget.
1. In Salesforce Lightning platform plans, availability revealed, the subhead is "…it may encroach on Salesforce's partner ecosystem."
2. And in Salesforce Lightning upgrade may create winners and losers, Lauren writes:
Recent upgrades to Salesforce Lightning may benefit customers who can now build new apps — but how will it affect partners who have apps that tackle the same problems?
I think Salesforce's maneuvering around the different pieces of the call center puzzle is not accidental at all.
But No Inbound: Is it a Third Rail or Phase 2?
Note what was not in the announcement: inbound. Handling inbound calls is still the crown jewel of the call center vendors. Outbound has long been seen as a low-value feature that lots of players could peel away from the core call center offering. Inbound is what drives the sale of multi-million dollar call center systems.

Perhaps Salesforce is stopping short of offering inbound voice features out of deference to the many call center partners it has. Companies like InContact, LiveOps and Transera have invested heavily in Salesforce integration. It's a partnership that works well: Agents sit in front of Salesforce-based consoles with the "screen-pops" driven by the inbound calls. Both the call center vendor and Salesforce get to sell a seat license per agent.
Also on that list is TalkDesk, the superstar newcomer that has conquered the low-end of the market with a largely self-serve model ("Create a Call Center in 5 Minutes"). Salesforce was a major participant in TalkDesk's recent $21M round of funding.
Another reason to avoid inbound is that it is more demanding to deliver. Inbound is mission critical for most companies. If your call center can't accept calls, you could be losing sales or even customers every minute. If you can't make outbound calls, consequences are less dire.
What's Under the Hood?
As reported by Re/code's Arik Hesseldahl, Lightning Voice is powered by Twilio. Guess who is a major investor in Twilio? Yep, Salesforce. And guess what powers Talkdesk? Twilio.
What to make of all this? Perhaps Salesforce is watching TalkDesk to see if a Twilio-powered call center can really scale up. If it does, Lightning Voice could expand into inbound functionality and – boom – every call center vendor is under major threat: Avaya, Cisco, Genesys, Aspect, Five9, InContact, Interactive Intelligence. (Their combined call center revenues add up to around $4B annually.)
When companies deploy a new call center, a big part of the process is CTI integration – getting the call center software and CRM software to work together so that the agent's get the right info. For many VARs, this is what pays the bills. As Paul Fischer points out this could all get streamlined with Lightning Voice. So there's another constituency that is threatened.
The Power of a Platform
Companies like TalkDesk and NewVoiceMedia have built call center businesses on top of Twilio, which has allowed them to grow very quickly. They bypassed the years and millions of dollars that the previous generation of companies had to invest in building all the core technology of a call center. But that's a double-edge sword. If they can do it, so can others. And no one is better positioned to do that than Salesforce.
The big take-away here is the power of a platform and API for voice. No matter what happens, Twilio is the big winner. This is why Cisco bought Tropo (formerly part of Voxeo), and it's why Avaya is placing such a big emphasis on their new Engagement Development Platform (EDP).
UPDATE:
Two weeks after this was published, Avaya renamed EDP to "Breeze" and launched a Twilio/Tropo competitor called Zang. Read our coverage here.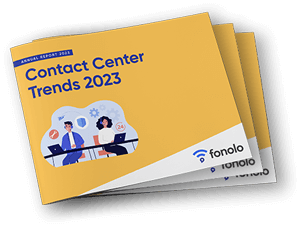 Trend Alert! Contact Center Industry Predictions for 2023
This report offers perspective on where the contact center industry stands today, plus our trend predictions for 2023.