St. Patrick's Day has long been considered a great excuse to pour yourself a cold one and celebrate all things Irish, but some of us have earned the right to party a little more than others.
For instance, call center agents have to put up with a lot all year-round. Customer demands are greater than ever before – 58% of consumers are more likely to tell others about their customer service experiences than they were 5 years ago – and much of the pressure is put on agents to ensure those experiences are in fact positive. But that's not all; here are some other good reasons why you should reward your call center agents with a Guinness (or two) this St. Paddy's Day.
They Smooth Over Customer Issues with Grace
Your call center agents handle customer issues all day long. From the pleasant to the unruly, they do their best to make each customer feel good by the end of the conversation. Being able to navigate through different personalities, and different wants and needs, is no easy task. Without them, you're more likely to be confronted with a riot, rather than a celebration, on a day like St. Paddy's.
They Have the Patience of a Saint
St. Patrick himself would have been impressed by a call center agent's ability to keep calm during tense customer encounters. They are the mediators that keep your brand reputation alive by preventing angry customers from leaving, and making happy customers even happier. Statistically speaking, 73% of consumers say friendly customer service reps can make them fall in love with a brand. Now that's something worth celebrating.
They Have a Sharp Eye for Detail
Agents pay close attention to each of your customers' concerns, even checking in periodically before they have an issue to let them know how much they value their business. Staying on top of little details can be tedious and tiresome, but these workers see great value in going that extra mile. They also know that by being detail oriented they are more likely to avoid negative experiences with customers in the future. This is a win-win for them and for your business.
They Work When the Rest of the World is Asleep
Customer service has turned into a 24/7 job, and it takes a special kind of person to remain alert and greet customers happily in the middle of the night. While most of us are at home sleeping soundly or relaxing with a glass of wine, call center agents are waiting for the next customer to call in frantically asking why their flight was cancelled, or their laptop refuses to turn on. Being able to reach a human at any time of the day to fix our problems is a luxury that should not be taken for granted, and these workers deserve to be recognized for this convenience.
They Keep up in a Fast-Paced Environment
Call center agents can't control their workload; they always have to be ready and alert to take a call. Most of us can plan our day and if we don't finish our work, we can always reprioritize or take our work home. Call center agents, however, can handle calls at their own pace, but they cannot reorganize a customer's demands to fit their energy level. They must adapt to this fast-paced environment of customer relations. That definitely deserves a Guinness.
The list could go on and on, but you get the picture. So, cheers to all those hard-working call center agents and a Happy St. Patrick's Day everyone!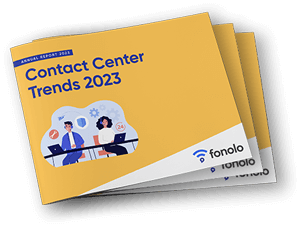 Trend Alert! Contact Center Industry Predictions for 2023
This report offers perspective on where the contact center industry stands today, plus our trend predictions for 2023.