What's happening when your contact center is experiencing a high number of abandoned calls?
Simply put, you're receiving more incoming calls than your agents can handle, resulting in longer than normal hold times.
Maybe it's just a spike in call volume (even the best centers experience peaks) or not enough agents on the floor; either way, the result is upset customers and a negative experience – neither of which you want.
One Simple Secret for Lowering Abandon Rates
More and more, contact centers are realizing the detrimental effect that hold time is having on their service levels, abandonment rates, and the overall customer experience.
Fortunately, there are ways to fix this problem. In this one hour webinar you'll learn how American Bar Association reduced abandon rates by 78%, improved the calling experience, and seized the opportunity to better manage spikes in call volume and reduce call center costs.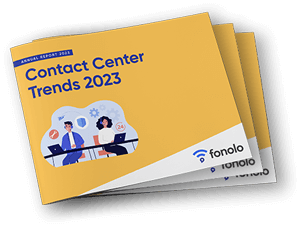 Trend Alert! Contact Center Industry Predictions for 2023
This report offers perspective on where the contact center industry stands today, plus our trend predictions for 2023.