In the name of fostering good customer service, Fonolo recently launched its First Annual Customer Experience Excellence Awards (#CXAwards). Since the announcement, we dug deep to determine who had truly delivered great customer experiences from the last year right up until now.  We did this by analyzing the number of customers a company served versus the amount of hold time they saved them. The numbers spoke volumes. First of all, the amount of hold time saved by these companies was truly incredible. But also, the volume and improvement since deploying a call-back solution was another clear indication of their willingness to put customers first. It soon became abundantly clear that two distinct companies stood out.
So, without further ado Fonolo is proud to formally acknowledge this year's winners: J.B Hunt Transport Services, Inc. and UMass Memorial Health Care!
J.B. Hunt Transport Services, Inc., is a Fortune 500 and S&P 500 Company, which focuses on providing safe and reliable transportation services to a diverse group of customers throughout North America.
When asked why they chose Fonolo call-backs they said…
We wanted to provide options for our customers that would make their experience the best possible. Fonolo allowed us to offer call-back options to our customers without the need for excess time or capital investment. Since implementing the Fonolo solution, our average speed of answer and abandon rate have both improved over our baseline statistics.  Additionally, we have had multiple reports from our customers about how much they enjoy the call-back option.
Brad McBride, Information Services Manager, J.B. Hunt
UMass Memorial Health Care is the largest not-for-profit health care system in Central Massachusetts with more than 12,900 employees and 1,670 physicians, many of whom are members of UMass Memorial Medical Group.
When asked why they chose Fonolo call-backs they said…
The ability to provide callers with immediate access to the information they need is paramount. At the time of the Fonolo implementation, our abandon rate decreased nearly 20 percent despite an increase in call volume. Today, our call center continues to exceed our call abandonment rate goal of 5 percent or less when fully staffed.
Michele Sweeney, Senior Director of Patient Access Services, UMass Memorial Medical Center
Winners of the 2016 Customer Experience Excellence Awards have gone above and beyond service level expectations using Fonolo's call-back solutions. We are excited to acknowledge them for their outstanding performance and look forward to seeing their customer service flourish.
Read the full announcement here.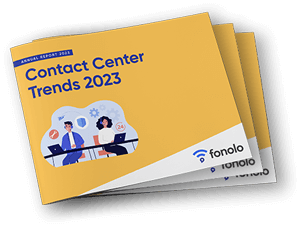 Trend Alert! Contact Center Industry Predictions for 2023
This report offers perspective on where the contact center industry stands today, plus our trend predictions for 2023.