Last week, Fonolo hosted yet another insightful Google Hangout discussing the hottest topic in the customer service space – chatbots. The glaring question was, is chatbots the new reality or just hype? This fabulous panel of chat experts was on a mission to separate fact from #botmainia fiction. To save you some time, we've extracted video snippets showcasing highlights from the discussion.
First, let's take a quick look at the panel of speakers: Dan Miller, Lead Analyst and Founder at Opus Research, Chris Vieville, Director of Sales and Marketing at SnapEngage, Karl Pawlewicz, Voice of Olark at Olark, Reagan Miller, Vice President Chat Agent Services at [24]7, and Shai Berger, CEO and Co-Founder at  Fonolo.
1. How Should Companies Justify the Cost of Yet Another Customer Service Channel?
Let's talk about chatbots as a standalone channel for customer service. Consumers voted loudly that "messaging" is their preference for P2P communications, so it's only logical that B2C will follow in its footsteps. But, we need to remember that there is a cost for companies to add chat capabilities.
Traditionally chat has been sold as a cost-efficiency measure, when compared to phone support, but is that still a valid view in the age of messaging?
Reagan from 24[7] starts off this topic and discuses if companies should view chat as a cost reducer.
2. What Makes a Messaging Platform Suitable for Customer Service?
The battle between messaging platforms has become a new industry obsession. Like the battle between web browsers a decade ago. How do we judge this fight?
Everyone reports MAUs (monthly active users), but is that the metric that matters for customer service? Or for bot adoption? If not, what metrics are important?
Let's hear from Karl at Olark as he discusses platform suitability for customer service.
3. Should Companies Worry About Being Dependent on 3rd Party Platforms? 
Companies have always had ownership and control over their customer service channels. Whether it was a physical store, a phone system, email, or even web-based live chat – in each case there was some kind of cost paid by the company to set up and use the channel.
This new era is very different. Facebook and the other messaging platforms are offering a channel to customers for free and the trade-off is that you're sharing the medium with other companies. The problem is that the messaging platform may have an agenda that doesn't line up with yours.
Let's hear from Chris at SnapEngage as he dismantles whether companies should caution becoming dependent on 3rd party channels.
4. As Bot Intelligence Evolves, Where Will They Live Within the Ecosystem?
If AI is going to be a part of our chatbot future, where should the intelligence "live"?  Should it be part of the messaging platform (i.e. owned by Facebook or WeChat), or should it be owned by the messaging vendor (for example 24-7)?
Dan from Opus Research has a great view of the players in this space. Let's hear what he has to say about where the AI piece will fit in.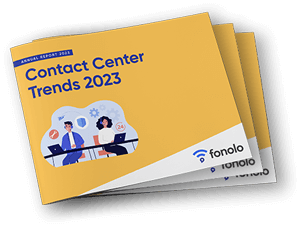 Trend Alert! Contact Center Industry Predictions for 2023
This report offers perspective on where the contact center industry stands today, plus our trend predictions for 2023.