Each year companies lose an estimated $41 billion due to their poor customer service. On top of this, nearly 80% of contact centers say their current customer service systems won't meet their future needs. At that rate, those estimated losses are destined to increase drastically unless customer service leaders make a change.
It's okay, we understand, no one is perfect. But it's time to shed some light on those common customer service shortcomings (without any judgment, of course). Today, we're exploring five true confessions of contact center and customer service professionals in hopes of aiding them and others on their quest to improve and eliminate these pitfalls for good
True Confession #1: "Our customers wait on hold far too long…"
75% of customers believe it takes too long to reach a live agent and 25% switch because they are tired of being kept on hold. Yet there's a simple solution to giving customers their time back and to elevate stress on your call center agents: call-backs. Call-backs help to even out spikes in call volume, lower abandon rates, and can even lower your telco bills. Unfortunately, many contact centers fail to provide this effective solution to their customers.  Why? There's a host of logical reasons I'm sure but the customer experience has become far too valuable to avoid implementation any longer.
Surprisingly, deploying call-backs can actually be a painless experience. Just ask Mark Edelman, former VP of Digital Member Services at Stanford Credit Union. After deploying Fonolo's In-Call Rescue solution SCU was able to decrease abandonment rates by 50% and saved $60,000 in the process.
True Confession #2: "Our customers can't switch from live chat to voice…"
57% of customers end up having to switch from web to phone. When a conversation on chat becomes too complex, it's important that customer service teams recognize this and are equipped to escalate to a voice conversation. However, if an agent has to tell a customer to call a generic 1-800 line to complete the interaction, we have a problem. Agents should be able to easily escalate the conversation while preserving the context (so that the customer doesn't have to start over again).
Conveniently, Fonolo announced its "Voice-to-Chat" feature leading up to the ICMI Contact Center Expo which is happening right now!
True Confession #3: "We can't send SMS alerts when a customer is waiting…"
I mean, technically you CAN, but you just haven't deployed the right solution…yet. Mobile alerts have become increasingly important in a world that is nearly 2/3 mobile savvy. Today, 77% of consumers with texting capabilities aged 18-34 are likely to have a positive perception of a company that offers text capability. Contact centers using Fonolo can use "SMS Alerts" to notify customers of the progress of their call after they've requested a call-back.
It's easy to lose a customer's attention when hold times are long, but this solution can reduce the frustration by remaining transparent while keeping you and the customer connected.
True Confession #4: "We don't offer any self-service options…"
Self-service can make your call center a smoother, better-oiled machine, and the demand for it is overwhelming. According to Zendesk, 91% of customers would take advantage of a knowledge base resource if it met their needs. Basically, your customers are telling you that they want to figure it out for themselves, so why not let them? Adding a self-service portal can also change customers' perception of your brand. In fact, 60% of consumers view a brand with a mobile-responsive self-service option more favorably than one that doesn't.
By adding a self-service customer portal you not only improve the customer experience, but you help lower call volume, allowing your staff to handle customer care issues with more time and precision. It's truly a win-win.
True Confession #5: "We don't provide support through our mobile app…"
85% of people prefer using native mobile apps to websites, so why not provide support through your customers' preferred channel? The number of inbound customer service requests via a mobile app will increase by 38% in the next year. Fonolo's "Mobile Rescue" offers companies a solution that allows mobile customers to automatically navigate the IVR, request a call-back, and get connected to live assistance. Your "Contact Us" page is now a one-tap portal to customer support.
So, maybe it's time to stop confessing and start addressing how your contact center can benefit from cloud-based, turn-key solutions and make your customer service "future-ready".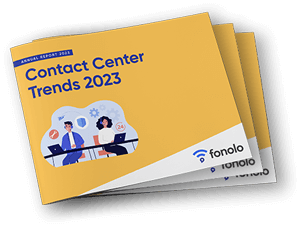 Trend Alert! Contact Center Industry Predictions for 2023
This report offers perspective on where the contact center industry stands today, plus our trend predictions for 2023.