Today, the customer experience is arguably the number one determinant of an organization's success. Aberdeen reports that companies with strong omnichannel strategies retain an average of  89% of their customers, as compared to 33% for companies with weak omnichannel strategies.
According to Deloitte, 62%  of companies view customer experience delivered by the contact center as a competitive differentiator. There are plenty of numbers we can throw around about the customer experience, but not everyone understands what great customer experiences include, or perhaps, what they don't include?
Let's discuss some of the worst advice we've been given – or heard others been given – when it comes to the customer experience, and how the numbers prove them wrong.
BAD ADVICE #1
"Improving the customer experience won't affect your organization's overall revenue."
Interesting perspective – but not true in the least. This opinion is probably why only 35% of companies with the least positive CX impact claim to see a link between customer experience and business results, while 73% of companies with the most positive CX impact admit there is a correlation between the two. Basically, companies who understand that the customer experience actually drives results are more likely to see results. Remember: It's never too late. The first step is admitting there's a problem, and taking the right steps towards change.
Here are the top reasons why businesses choose to improve the customer experience:
BAD ADVICE #2
"You don't need around-the-clock customer service to provide a great experience."
For some small businesses that may be true, but if you are a large company – like an airline or a hotel – your customers will look for you at all hours of the day. In a recent episode of "Hotel Impossible," the front desk at a busy Hawaiian resort was only open from 9 AM to 7 PM, which meant all checks-ins after that time were given written directions to "find" their room key. This is completely unacceptable. People save up their whole lives to travel to exclusive destinations like Hawaii. To travel that far and have to hunt down your own room key sets a terrible first impression, a negative customer experience, and is a poor start to any hospitality driven business.
But 24-hour customer service is not restricted to the hospitality industry. eConsultancy discovered 83% of online shoppers need support to complete a purchase. Can you imagine how many abandoned online shopping carts exist without after-hour support? When we think about it this way it's easy to see that the cost of implementing around-the-clock customer service is made up of the number of sales you'll make in return!
BAD ADVICE #3
"Social media doesn't help to improve the customer experience."
That's really interesting (said in the voice of Regina George)…since 67% of companies believe that social customer service is the most pressing short-term priority for the contact center. It's important not to get caught being among the other 33% of companies that don't value social support. And if you can't take it from us, at least take it from Jeff Bezos, who makes an eye-opening point about how important online customer satisfaction really is;
"If you make customers unhappy in the physical world, they might each tell six friends. If you make customers unhappy on the Internet, they can each tell 6,000."
Since millennials "count on social media" when buying online, it's about time we stop fighting the war against social support and admit that the customer experience can only get better when it's utilized – #truestory.
BAD ADVICE #4
"Customers prefer to have someone else do all the work for them."
Of course, restaurant patrons don't want to prepare their own food (most of the time), but depending on how efficient the customer journey is, consumers really don't mind starting and finishing a transaction all by themselves. Today, customers actually prefer self-service options over asking for support help. The 2015 Aspect Consumer Experience Survey found that "73% of consumers want the ability to solve product/service issues on their own; one-third say they'd 'rather clean a toilet' than speak with customer service." And the demand is only growing; 90% of consumers now expect a brand or organization to offer a self-service customer support portal.
But keep in mind that giving customers the option to quickly find live agent assistance when needed, makes the self-service experience even better (check out this website solution for escalating online customers to a phone call).
BAD ADVICE #5
"Call-backs are not a necessity for helping to improve the customer experience."
Where do people get this stuff?
Customers don't just want call-backs; they need them to ultimately feel satisfied with their experience. Accenture's "Global Customer Pulse Research Study" cited that 69% of respondents were "extremely frustrated" when placed on hold for a long time. Moreover, 77% of customers say that valuing their time is the most important thing a company can do to provide good service. Time is money, and if a company is willing to take both away from a customer, it's easy to neglect a purchase.
Check out Fonolo's recent success stories for more examples of how call-backs improve the experience while lowering costs.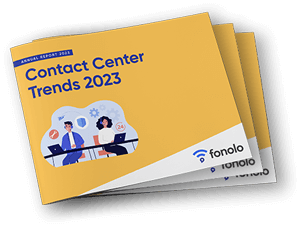 Trend Alert! Contact Center Industry Predictions for 2023
This report offers perspective on where the contact center industry stands today, plus our trend predictions for 2023.