The philosophy "Keeping up with the Joneses" relates to the need to stay up-to-date with the latest trends and the greatest benchmarks. For customer service professionals, 'the Joneses' are your customers, your industry, and your competitors. With technology constantly evolving and consumer behaviour consistently on the prowl for change, the modern call center MUST keep up.
How do you feel about the service you're providing to customers? Are you proud and confident about it? Most importantly, does it surpasses that of your trendy neighbour (or in this case your competitor)?
To avoid letting your chic neighbour outshine your customer service efforts, keep these 3 strategies in mind and pay close attention to how they work together!
Read A Lot!
Who says customer service folks can't scour the media for relevant content? Simply pinpoint a few really informative websites and sign-up to receive alerts as they promote their content. Even following relevant Twitter handles or LinkedIn groups can keep you abreast of the latest trends and developments as they happen.
Here are the Tweeters, LinkedIn groups, and customer service driven websites that I follow regularly:
Tweeters:
LinkedIn Groups:
Websites:
Watch for Feedback
If you don't become an avid reader after the first tip, you're sure to become one now. Getting feedback from your customers is key to implementing the right kind of change. According to a report by Deloitte, 55% of companies view call / contact monitoring as the best way to gain customer feedback. You can also collect feedback from surveys, customer interviews and social listening – which means read, read and well, read a little more.
The truth is, you simply can't fix what you don't know is broken or needs improvement. Your competition does this, so learn what they know and put your best foot forward.
Adopt a Responsive Approach
There's no way you can keep up with the Joneses' if you don't adopt this last strategy. Creating an agile approach to your customer service efforts is critical to enforce change at the drop of a hat.
Customer feedback is at the heart of this strategy. You can use their feedback to establish the most prominent consumer needs and implement change accordingly. This encourages teams to collaborate and focus on issues that actually matter, which is especially important in complex call centers where competing priorities exist.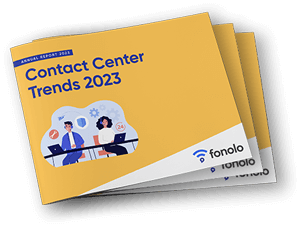 Trend Alert! Contact Center Industry Predictions for 2023
This report offers perspective on where the contact center industry stands today, plus our trend predictions for 2023.