It's time for a mid-summer's round up of the worst onholdwith.com offenders we've seen this month. At the beginning of 2016 we released the "Top 10 Twitter Complaints to Start the Year" and it looks like we still have some familiar faces on the list, as well as some new offenders to shake a finger at.
Brand new to this month's list is: Citibank, who catapulted all the way up to number two! Purolator also out #failed UPS with hold-time this month – inching into the 8th spot – knocking UPS off the list (but we won't count UPS out of our year-end offender list just yet). And – in a somewhat surprising turn – this month's highest complaint holder was Southwest Airlines, who jumped from seventh place to first place. Southwest recently encountered massive flight delays and cancellations due to poor weather, which essentially created a customer service catastrophe. Maybe next time they should have call-backs on tap to avert this kind of crisis.
Also worth mentioning, is our favorite #onholdwith tweet that comes from this Southwest Airlines passenger who is desperately trying to locate his plane's pilot on the airline's behalf:
2 canceled flights, 7 hours of lines, 4 hours on hold. I finally got confirmed only to find out that the pilot is not here. @SouthwestAir

— Joe Andosca (@joehioh) July 21, 2016
Were you on hold this month? Recognize any companies on our onholdwith list? Take a look at our infographic breakdown to find out:
Is customer service putting you on hold? Simply use the hashtag #onholdwith to get your voice heard! If you want to see real-time complaints visit onholdwith.com.
For more #onholdwithstats, check out our annual list of the worst companies to call.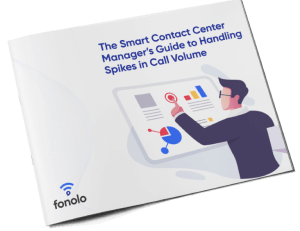 How to Manage Call Spikes in the Contact Center
Download this free guide to learn how to protect your contact center from call spikes.