UPDATE 2017/1/19: Avaya declared Chapter 11 bankruptcy today.
UPDATE 2016/9/1: Genesys announced today it is buying Interactive Intelligence. Our coverage: Genesys Buys InIn – Biggest Merger in Call Center History?. The opinions below are still worth reading, though. The points they raise remain relevant to both Genesys and Avaya.
We've known for a while that Avaya needed to do some restructuring to help reduce its $6B pile of debt. There has been speculation that parts of the company may be sold off including their call center business. Last week, Reuters reported that there is indeed at least one suitor for that division and it is none other than Genesys, Avaya's long-time competitor in the call center space. Having just raised $900M, Genesys was a logical suitor, yet the news seemed to catch most people off guard.
Avaya is an industry titan with over 300,000 customers, including 83% of the Fortune 500 companies. Such a transaction would be the most significant alteration of the call center vendor landscape in years; perhaps the largest shift since Avaya itself bought Nortel's enterprise business in 2009. What does it mean for the industry? We asked some of the leading experts for their "hot take".


Sheila McGee-Smith
President and Principal Analyst, McGee-Smith Analytics
Twitter: @mcgeesmith
[It's] more about buying market share than it is about technology… That said, some Avaya technology assets, such as predictive dialing, could add to the overall Genesys CX platform…In terms of cloud [call center]… while Genesys is ahead, both companies have a way to go. The benefit of a combination would be that instead of two R&D teams working on two different solutions, just one team would be working on one platform. And that's where the value of market consolidation comes in. [Excerpted from NoJitter.]

Dave Michels
President, TalkingPointz
Twitter: @davemichels
There are so many things, more logical things that Genesys can and should be doing that are better than buying Avaya's contact center business. If Avaya were to sell off its lucrative contact center business, I would much rather see it go to a pure-cloud provider as I believe hybrid models offer a lot of benefits and a nice approach for customer expansion.

Jon Arnold
Independent Industry Analyst
Twitter: @arnoldjon
The stars certainly seem to be aligning for this to finally happen. There's a strong consolidation wave underway now, and this move would allow Genesys – and Avaya – to compete more effectively against Cisco. Avaya simply doesn't have the financial resources to remain as an independent major in this space, and Genesys looks to be the best option for long term viability, and getting anxious Avaya customers back into buying mode.

Paul Stockford
Owner, Saddletree Research
Twitter: @paulstockford
If Genesys were to buy Avaya's contact center business I think it would be to acquire the customer base rather than to acquire the technology. Taking on the Avaya product line would be a gargantuan task for Genesys. A more likely scenario would be Genesys acquiring a company like Interactive Intelligence if they could raise the funds. Interactive Intelligence would provide Genesys with an outstanding cloud solution in PureCloud and would also offer Genesys a fast entry into the mid-market. I don't believe an acquisition of Avaya by Genesys is likely.

Blair Pleasant
Principal Analyst, Commfusion
Contact center is the crown jewel of Avaya in terms of installed base and market share, so in part I can see why a company like Genesys would be interested. But other than as an installed base and market share play, I don't necessarily see the value to Genesys. I'd be concerned about having a replay of what happened when Avaya acquired Nortel. Just because you acquire someone doesn't mean that their existing customers will move to your solutions going forward. Avaya customers won't necessarily move to Genesys solutions, and Genesys would be responsible for the support and maintenance of the Avaya solutions (unless Avaya spins out a service and support organization).

Kevin Brown
Managing Director, VoxPeritus
Twitter: @CustExperGuru
There still are many Genesys-on-top-of-Avaya deployments out there. Seems that there have been a fair amount of Avaya [customers] going to pure Genesys, Genesys-on-top-of-Cisco, or pure Cisco. This play would capture the second two migration prospects. Technical integration wouldn't be tough, but product and organizational integration would have to be fast and brutal to prevent alienating current customers and pushing fence sitters over to Cisco.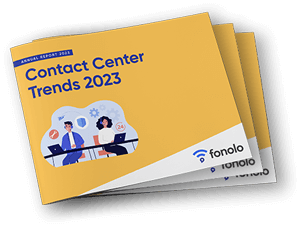 Trend Alert! Contact Center Industry Predictions for 2023
This report offers perspective on where the contact center industry stands today, plus our trend predictions for 2023.