Recently, we saw a catastrophic customer service meltdown at Southwest Airlines, initiated by an unforeseen IT outage. For the most part, technology does its job to help businesses run more smoothly, but sometimes, things go a little haywire. Some businesses plan ahead to properly manage and control its customer service relationships during a crisis, and then there are others, who just sit in glass towers, crossing their fingers and toes.
Lack of preparation for unpredictable incidents like this can result in a loss of customer loyalty, or worse, a complete boycott of your company. Let's take a look at how some of the most successful companies curb complaints and avoid turning their customers against them.
Employ Real People to Answer the Phone
Zappos is garnering huge media attention after one of its customer service reps handled a support call totaling 10 hours and 43 minutes! So, why was this interaction such a success? Basically, the CSR treated the customer as he would an old friend, stating, "Even though I never spoke to this customer before in my life, I felt like I knew her for 15 or 20 years" (awwh). And this isn't the first time Zappos has engaged in a lengthy support call. In 2012, a rep handled a call that lasted 10 hours and 29 minutes.
Though we don't recommend spending an unnecessary amount of time on simple inquiries, it's surprising how many customers just want to speak to someone to feel satisfied by the experience, and this CSR went above and beyond to ensure it. Can your chatbot do that?
Have a Safety Net in Place
When hold times get long, it's important to have a backup plan in place. When the Credit Union of Colorado was constantly battling staffing changes, weather issues, and other operational concerns they decided to deploy Fonolo's In-Call Rescue solution. By being proactive about this and finding a solution to help, they were able to reduce caller abandonment rates by an average of 40%!
"You just can't plan for unforeseen events in the contact center. Sadly, when the events do take place the result is a frustrated member. Fonolo is our safety net, when unforeseen events take place we know it won't be at the expense of the member experience." – Laura Reinhold, Member Service Contact Center Manager, Credit Union of Colorado
At the end of the day, having call-backs as a day-to-day solution or in place for crisis management is a win-win for both customers and agents. If more businesses deployed solutions like this, you'd get a lot less pissed off customers on the other end of the line.
First Contact (and One Contact) Resolution is Key to Customer Satisfaction
Besides having to wait on hold, another major source of customer frustration is repeating issues multiple times, to multiple agents. In fact, 72% of customers blame their bad customer service experience on having to explain their problem to multiple people, yet over half (56%) of customers end up having to re-explain an issue when speaking to customer service. That's a lot of annoyed customers, and for the most part these customers end up having to jump from channel-to-channel searching for help.
A report by Parature found that the telephone (81%) still took precedent when customers were asked which customer service channel they use regularly. However, when asked where their interactions typically begin, online (57%) was the most popular channel. For assisted service, telephone (36%), live chat (33%), and email (25%) were all highest on the respondents list of preferences. With so many channels in the mix, customers can't be sure about where to go first. Therefore, it's your responsibility to create a channel funnel. Basically, don't try to resolve an issue that's better equipped for another channel like the telephone (and then make the customer wait on hold to reach an agent).
Be smart, be quick, and train your agents to do know proper channel escalation tactics to achieve first contact resolution, and if you're really good, one contact resolution. Apple has the right idea with their brick and mortar Genius Bar — they know that support complaints for laptops/electronics are best handled in person. They've created a channel that customers recognize as their go-to for serious support issues. It may seem like an inconvenience at first, but at the end of the day it's a reliable channel customers can depend on for the product they offer.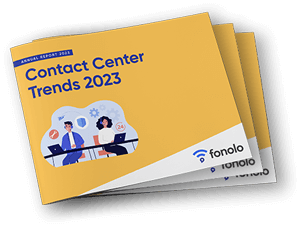 Trend Alert! Contact Center Industry Predictions for 2023
This report offers perspective on where the contact center industry stands today, plus our trend predictions for 2023.