So, you're working on auto-pilot eh? (Yes, I'm Canadian.) I get it; we all tend to get comfortable with the rhythm of our day-to-day tasks and fail to watch areas that may require change. Unfortunately, your repetitive actions will produce the same results. If you keep practicing the same strategies without considering a change it will only end in the demise of your center.
The best way of deciding how to improve contact center performance is to step back and look at it from a 360-degree view. After all, innovations and consumer behaviors evolve in scope and sophistication, so it's worth reconsidering your tactics to potentially take your service to the next level.
1. Measuring Average Handle Time (AHT)
Many call centers push agents to handle client queries within an allotted timeframe. What they fail to realize is that agent behavior is impacted dramatically by these metrics. If agents are being graded on AHT, they're at risk of rushing through calls and not solving problems effectively. While efficiency is certainly an important factor for a successful call center, you also want to foster an environment where your agents feel comfortable listening to customers and even initiating important conversations.
Many companies have actually found that de-emphasizing AHT leads to increased customer satisfaction and First Call Resolution (FCR). The decision not to watch handle time, sends a strong signal to the agents about how they should approach calls and the kind of style they should use.
2. Leaving Customers on Hold
NewVoice found that 25% of customers switch companies because they are tired of being on hold, while 76% of adults said that just one unpleasant experience was likely to make them take their business elsewhere. That's a lot of pressure on contact centers to deliver superior service.
Luckily, a solution to the problem is here. In a recent report by ContactBabel – of 212 contact center managers surveyed – 22% worked for an organization that offered a call-back option. If you're interested in learning more about this technology, you can find out how call-backs work and see if it's the right tool for you.
3. Overlooking Agent Engagement
Often, management is more concerned with the number of inquiries handled than the well-being of staff, creating few incentives for agents to focus on the customer experience. However, employees who are truly engaged are your top performers.
Empower your reps to make out-of-the-box decisions and keep them informed using the right technology. Consider tracking agent engagement and satisfaction at every level (especially managers, who can make or break the engagement of their staff) using the same methods you would for customers.
4. Avoiding Cloud-Based Technology
18% of call centers moved to a cloud-based solution by the end of 2015, and according to Gartner, more than half of the Global 1000 companies will store sensitive customer information in the cloud by the end of 2016. Organizations will continue to adopt virtual call centers due to improved security and efficiency.
While cost reduction is typically the main factor, it's no longer the sole motivator for moving to Contact Center as a Service (CCaaS). Other noteworthy reasons are speed of deployment, flexibility, and scalability.
5. Forgetting the Importance of VoC Programs
VoC research is designed to support customer driven change, and in an era where change is ongoing, this strategy is vital. It's essential that you capture consumer expectations and preferences in order to accurately meet their needs.
The key to creating an effective VoC program is to gather and use information in a timely way that helps you to improve. According to Forrester, successful VoC programs should support a cycle of four activities: listen to customer feedback, interpret the resulting data, react to improve the experience, and monitor results.
6. Disregarding SMS in the Call Center
Traditionally, businesses use text messages to send a widespread marketing pitch or alert/reminder. However, customers want more than that. According to a finding from OneReach, consumers want the ability to start a conversation via SMS for answers commonly found on self-service channels.
64% of people would prefer to use text messages over voice as a support channel. So, if customers expect texting to be a part of the conversational dialogue, it needs to be an application you consider to stay ahead of the competition.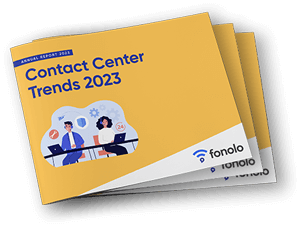 Trend Alert! Contact Center Industry Predictions for 2023
This report offers perspective on where the contact center industry stands today, plus our trend predictions for 2023.