Operating a successful contact center is rarely a simple undertaking. As any customer support manager knows, there are a number of crucial factors that come into play when looking to succeed in the call center world.
We often hear from call center managers who are trying to improve their call metrics with our solutions. But, we wanted to go one step further and pick the brains of some of the most successful contact center leaders for some tips on how to match their success.
How Do You Exceed KPIs in Your Contact Center?
Back in 2016, we asked some of them this question: "How do you meet (or exceed) the KPIs set for your contact center?" And you know what? Many were eager to share their words of advice.
We've gone back to look at how those tips have matured, and to add some more details from other call center experts that we've found along the way.
The Formula for Contact Center Success
One of the most comprehensive answers we received was from Neal Topf from Callzilla. He provided us with a simple yet thorough mathematical equation, that can lead to contact center success.
This formula is probably the most accurate representation of what it takes to achieve success in the call center for this reason; running a great contact center is an incredibly complicated undertaking, with dozens of interrelated, moving parts.
So, here's the formula for contact center success:
[Proper Employee Selection + (Training + On-boarding) + (QA + Coaching + Supervision + Career Path) = Employee Engagement] + Processes + Reporting + Clearly defined objectives (CSat + FCR + Effort) + Omni-channel Technology + Front-line Empowerment + Senior Management buy-in = Contact Center Success.
Got it?
Good. So without further ado, here are the 7 amazing tips from experienced industry professionals about how to achieve success in the call center.
Tip 1: Embrace Your Challenges
As anyone that works in a call center knows, there's always room for improvement. And attempting that improvement usually uncovers a swathe of challenges that you didn't even know you had.
The key to success for your call center is embracing those challenges. Justin Robbins, of UBM Americas tells us more:
"Unlike other professions, most people don't plan to spend their career as agents. It's not glamourous and often a transitional career. As such, it can be hard to foster engagement, retention, and productivity. Rather than fear these challenges, I embraced them."
"During my time as a contact center leader, I invested in helping my agents discover how their current job would benefit them in their next professional role, no matter what they aspired to do. When they realized that it benefited their future goals, they were more engaged in their work, harnessed their passions, and excelled in their delivery of service."
Tip 2: Find & Invest in the Right People
As any great call center manager will tell you, finding and training the right people will make or break your contact center. And that starts with your management, as Matt Zurcher of Home Advisor told us:
Find Great Call Center Managers
"Meeting performance level expectations is dependent on several factors (technology, reporting, luck) but ultimately it comes down to people. Not only do you have to have the right people talking to your customers, but you have to have the right managers in place motivating and coaching the agents."
"If you can find agents who truly enjoy helping others, who take ownership of every call and who have a positive attitude about life, you will be on your way to excellence. Since those characteristics don't always come naturally, you need a management team in place to help make it happen."
"Front line managers are the most critical part of the Customer Service team. They drive morale, they make agents better by coaching and as we all know, they are the most important factor in whether an agent stays or leaves. So while people will talk a lot about technology in a call center, when it comes right down to it, nothing is more important to be successful than the people."
Hire Great People
Ben Friedman of All Set couldn't agree more — it all comes down to your hiring:
"Hiring the right people, with the right attitude, outlook, and demeanor will always have the biggest impact on how efficient your contact center can be. If you have the right people on the team, you can easily implement processes (many of which will come directly from the people you hired) and have employees that enjoy their work."
Invest and Retain Your Best Agents
Once you've hired the right people, it's a good idea to get them to stay. We all know how expensive hiring and training new staff can be.
According to Gallup, 69% of employees would work harder if they were better recognized. And that recognition doesn't have to be expensive either. Even simple, low-cost gifts can increase productivity as much as 20%. Implementing daily and weekly goals and rewarding employees with small gifts for beating those goals will get the best out of your team.
Fun and games aren't enough to retain the best agents — you need to offer them room for growth.
As James Pollard at The Advisor Coach tells us, you need to implement constant training for all.
"When it comes to contact centers, a huge amount of money is lost when someone has an undeveloped skill. If someone is making a mistake for two months waiting for his/her quarterly coaching session, thousands of dollars can be lost. Continuous coaching and training helps mitigate this risk." It will also help your agents feel like they're making progress too, which will help with retention.
Tip 3: Create a Pipeline of Coaches
Giving your support agents to opportunities to see success in their own careers will help your contact center see success in the long run, as Mike Aoki, President of Reflective Keynotes, tells us.
"Creating a pipeline for future trainers was one of my biggest successes as a Training Manager. I identified Senior Agents, post-training Coaches and Team Leaders who were interested in training. With their Manager's help, we mapped out a plan for them to transition onto my Training Team. I also had them fill in occasionally as guest assistant trainers, so they gained classroom experience. As a result of this career pathing, whenever we expanded our training team, there were several great candidates already groomed to step into those roles."
Tip 4: Empower Your Customers With Choice
Quickly after the internet came customer reviews. And not long after that, businesses started to realize they'd have to start listening to their customers or face a grilling online.
One of the ways we empower our customers today (besides being able to complain about us online) is by allowing them to contact us in whatever way suits them. Robert Chandler, CEO of Cloudnine Realtime, explains why this is empowerment is important for call center success:
"[We're] all about empowering customers to take control of their growth through the power of possibility. We do this by providing our customers with choices as to how they'd like to receive support. When a customer calls in for support, they can choose a preference as to how they'd like to proceed. They can simply wait on the line for the next available technician, or they can opt to receive an automatic call back. This means that our customers can get on with their day while knowing that their issue will be addressed in a way that saves them time and hassle."
Whether you're providing a comprehensive self-service platform so that customers don't have to go through the hassle of contacting your helpdesk, replying in a timely manner on social media, or offering them a call-back instead of waiting hours on the phone — empowering your customers to solve the problem how they want to will alleviate some of the strain from your contact center, freeing up resources to improve your call center in other ways.
Tip 5: Keep Your Agents Informed
Giving your support agents the right information, or the right tools to find the right information is essential for a successful contact center. Information accessibility will make or break your call center (and your customer support agents).
Kevin C. Brown, Managing Director of VoxPeritus explains it clearly: "Employees communicating with customers are the human conduit that extends from your organization to the customer, regardless of medium. Whether they are a customer service representative on a voice call, email or chat, or an employee updating your website, they are bringing information to your customer and building value.
"Near real-time information is critical to providing the highest value possible. The best people, processes, and technology are all for naught unless you keep your employees up to date with the latest information. Focus on providing your employees with the correct information ASAP, otherwise, you risk all of your efforts to provide value to your customers that they will appreciate and reciprocate with return business."
Make Finding the Answer Easy for Agents
Accessible information both empowers your agents and improves the customer experience because a well-informed agent is much more able to resolve customers' problems on the first contact. And the importance of First Call Resolution to a call center's success doesn't need to be explained here.
That means having the right information available, and easy to find without having to navigate through multiple tabs or applications on their computer, as Kolin Porter, VP of Higher Ed Growth, explains: "This juggling act severely impacts lead quality and quantity. Average handling times (AHT) increase. Errors happen. Compliance missteps occur. Customer service diminishes…It's crucial that contact centers implement a tool that pulls in all of the necessary portals and processes into one simplified platform."
Keep Agents Informed
It's worth mentioning here that it's not just your customers' issues that you need to give your agents information about.
If you want your call center to be successful, you need your best agents to stay with you. And if they feel like they're out of the look, that's not going to happen. They probably won't even work their best, 92% of people said they would work harder if they knew what their company's goals were.
Make sure your agents know what's going on in the call center, as well as the metrics and benchmarks that they're being measured against. Give them financial information so that they can see the real impact of the decisions they make.
"A few bad calls a day may seem minor," says Dru Phelps, VP at Benchmark Portal, "But show an agent the cost of a bad call by multiplying those few bad calls a day by the number of agents in the center. Or, she said, explain that the average cost per call might be $6, but if a customer's problem isn't solved, that second call back has now cost the company $12"
Tip 6: Actively Listen to Your Customers
As mentioned above, the most successful businesses empower their customers by actually listening to their frustrations and ideas. And that should occur at every stage of the customer journey.
Natalie Garcia, CCR at Edge Imaging explains, "We practice active listening; acknowledge the customer has been heard and ask questions to help solve the issue quickly." But it goes
Far too many contact centers are obsessed with agent efficiency when they should be obsessed with solving customers' problems first. And the only way to gauge that is by actually listening to your customers. Jeff Toister of Toister Performance Solutions Inc., tells us why this is important.
"One contact center stopped sharing average handle time statistics with agents and focused agents on first contact resolution metrics instead. Repeat calls went down, but so did average handle time! Another contact center stopped asking agents to work on emails in between calls and assigned agents to either the phone queue or email queue. Efficiency increased in both queues and errors dramatically declined because agents were more focused."
If you're listening to your customers properly, they won't need your call center. If you understand why your customers are contacting you, you can work to fix those issues long before the customer encounters them. As Brett Remington of WCPE puts it, "The most efficient contact center is the one that doesn't need to be used…Call prevention is the highest performance outcome."
Tip 7: Invest in Technology
As any successful call center manager will tell you, investing in the right technology is as important as hiring the right people. So much of contact center success hinges on using the right technology. Many contact centers are late to the game particularly when it comes to updating old systems or adopting new technology.
If you want your contact centers to become more efficient, you need to take advantage. A more efficient business demands a more efficient infrastructure and one that is more modern in its approach.
"Finicky technology that makes day-to-day functions difficult, adds to the frustration and takes up far more time and man-power than most realize. No sacred cows … watch out for any processes that are time vampires."
— Katherine Dougherty of MaidPro explains.
Having the right technology — whether that's a call-back system to mitigate call spikes or a knowledge-base that helps your agents find answers faster — is the differentiator that will make your contact center successful.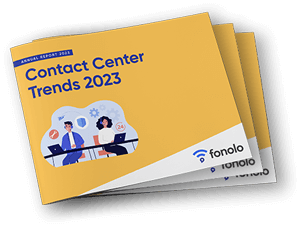 Trend Alert! Contact Center Industry Predictions for 2023
This report offers perspective on where the contact center industry stands today, plus our trend predictions for 2023.