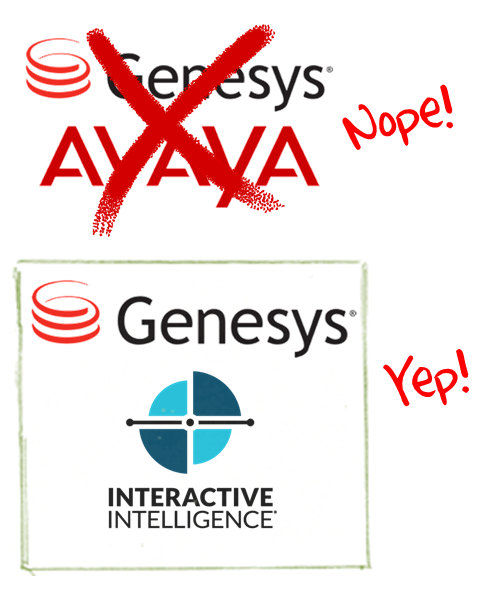 This isn't my normal posting time-slot, but I just had to put down a few thoughts on yesterday's news. In what is probably the largest merger in our industry's history, Genesys is buying Interactive Intelligence for 1.4 billion dollars.
What's the thinking behind this deal? Who are the winners and losers?
Some quick thoughts below.
Making History
The last deal to alter the landscape this much was Avaya's purchase of Nortel's enterprise business in 2009. Ironically, Avaya itself was rumoured to be the target, rather than InIn, just 3 weeks ago. In fact, we assembled the opinions of several industry analysts on this possibility and posted it last Tuesday.
Among the analysts, only Paul Stockford suggested InIn as a better target. For that, he wins a lifetime subscription to the blog plus a Fonolo t-shirt. (Paul, send us your size.)
Guts and Cloud Pay Off
It's pretty clear that InIn's new cloud platform "PureCloud" was the driving force behind this deal. Both Genesys and InIn have been offering hybrid cloud-"ish" solutions, where the software is hosted by the vendor yet isn't truly multi-tenant. Avaya and Cisco are somewhat in the same boat. Of this group, only InIn had the conviction to build a new cloud platform from the ground up.
That was a gutsy move because it brought a lot of pain to their existing on-premise business (which pays all the bills). It's rare, in a large public company, to see this kind of long-term bet, as opposed to focusing on next quarter's numbers. (Credit the fact that the company is still run by its founder.)
That bet sure paid off! Genesys needed a way to fully embrace cloud and InIn's PureCloud will deliver it.
Try, Try Again
Some commenters where bearish on this merger citing the difficulties that followed the Avaya-Nortel merger. It's true that most mergers fail, but not all do! And if you don't think you can beat the average, you shouldn't be running a company. Clearly, Genesys CEO Paul Segre thinks he can.
Other curmudgeons pointed to the fact that previous cloud-focused acquisitions EchoPass and Angel have not gotten Genesys to the promised land. Counterpoints: First, neither of those had the size and completeness of InIn. Second, I see this simply as a sign that Genesys saw the importance of the goal.
No call center company will survive long term without a robust first-class cloud offering.
Genesys is proving that it is willing to try until it gets it right.
What About the Overlap?
Combining Genesys and InIn, you get between 4 and 6 call center platforms, depending on how you count. Obviously, some overlap needs to be trimmed. My guess is that InIn's CIC and CaaS products will be sunsetted. That was the plan anyway because PureCloud was the long term play, but certainly, the timeline will be shorter now.
In an interview with analyst Sheila McGee-Smith, the Genesys CEO said
My belief is that in the Genesys segment, the high-end enterprise market, there will be premises solutions for a long, long time — for at least a decade. Cloud adoption continues to increase, from small to large and from the periphery in.
Paraphrasing the rest of his answer, Sheila wrote:
As the size of the contact center increases, the probability of choosing cloud today decreases, he added. The smaller the contact center, the more likely it is to be looking at a cloud solution. But even the biggest banks, for example, are using cloud for peripheral applications like collections while keeping the 'core' contact center on premises or in a single-tenant hosted environment.
I can vouch for that personally, as Fonolo is providing the "peripheral" service of call-backs and virtual queuing to a number of financial firms who are keeping their core contact center on-prem.
By the way, I think this mix-and-match approach will be the bridge to an all-cloud future that is 10 or 20 years down the line. And that's one of the reasons that CPaaS offerings like Twilio (one of the hottest tech IPOs of the year) have so much growth ahead. It's also the reason that I'm bullish on cloud-delivered supplementary products like ours.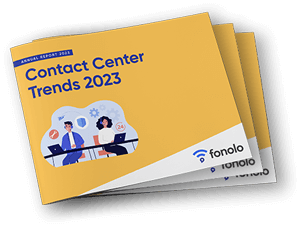 Trend Alert! Contact Center Industry Predictions for 2023
This report offers perspective on where the contact center industry stands today, plus our trend predictions for 2023.