It's a six-letter word that most doctors tell their patients to beware of, or they could face serious health conditions down the road. It's something we all struggle to cope with everyday but it's ranked significantly higher for contact center agents. Have any guesses? Yes, it's called s-t-r-e-s-s or better known as "agent burnout" in contact center terms. Of course stress or burnout can be found in any job but according to U.S. News Careers, customer service representatives suffer from above average stress levels and below average job flexibility, which is cause for concern. Healthy workers are better workers, so it's important to do whatever you can to help curb stress levels and boost agent morale in your contact center.
We explore a few ways to make your contact center a less harmful working environment for all:
Encourage Agents to Take 'Real' Breaks
These days it seems like taking a vacation is a bit of a faux pas but in the end, taking time off can actually be more beneficial than detrimental to a person's work.
If agents are not taking adequate time off to reflect and relax then sooner or later they will begin to tire, and eventually burnout completely. This is what creates high turnover in the workplace and having to constantly rehire staff takes time and money. Encourage your staff to take the breaks they deserve. They'll come back with a new perspective, more energy, and the drive to accomplish more. I mean anyone who has to talk to people day in and day out deserves a little peace and quiet here and there.
Equip Agents with Proper Tools
Lack of proper software, hardware, office supplies, and even office furniture can all lead to unnecessary stress in the workplace. Let's say your agent is struggling from back pain from sitting at an uncomfortable chair all day. This issue could be avoided by sending in a request to corporate for better office chairs. Or perhaps your call center is suddenly inundated with angry callers because of a sudden recall (For example: Samsung Note). By having a call-back option installed on your phone system you have significantly reduced the burden of stress put on your agents. This option reassures customers that they will be called back, thus reducing repeat callers tying up the phone lines and angry customers on the other end fed up with waiting on hold.
By giving your agents the right resources for the job, they can focus better on what's in front of them, which is helping your customers, rather than what's going wrong on their end of the line.
Give Agents a Reason to Come to Work
At first, agents will seem eager to begin their new career as a CSR but after that honeymoon phase wears off, call center life can begin to feel mundane. Remember, mental health is just as important as physical safety when it comes to workplace performance. That's why it's so important to consistently reignite your agents' passion for work.
Showing agents that their work is valuable is more than just cutting a cheque for a few hundred dollars, it's the difference between a happy agent and a stressed out or depressed agent. But let's face it; if an agent can't afford to pay rent after working 40 hours a week, it's unlikely that they'll feel their job is worth the effort. But don't stop there, an agent's reason for happiness can range anywhere from job appreciation, to fair compensation, to job security and more.  Just as agents ask customers how they would rate their satisfaction levels, ask agents to do the same of their workplace. Perspective is everything and if an agent has a negative one, they will not only harm their own position but can create a toxic environment across the entire workforce.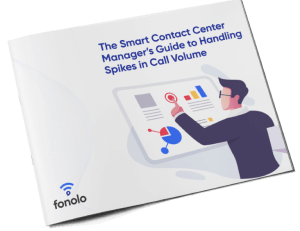 How to Manage Call Spikes in the Contact Center
Download this free guide to learn how to protect your contact center from call spikes.