It's amazing to observe the rapid changes in the customer service space – the introduction of new channels and new technologies, and the subsequent changes in consumer behavior. With new communication channels appearing and evolving every year, it's a challenge to understand how they relate to each other, and how they should all work together. New terminology can help our thought processes, if we all agree on the meanings. Conversely, ambiguity about words like "digital" or "chat" makes the navigation harder.
In this whitepaper, we'll discuss terms that are either new to the customer service sector, or have a recently changed meaning. Hopefully this helps to steer you in the right direction!
Conversational Commerce
Conversational Commerce is a term that's been around as far back as 2013. It really entered the mainstream via a blog post by Chris Messina (the guy who invented the hashtag). You can follow the, ahem, conversation with the hashtag #convcomm.
What makes an interaction "conversational" is that the customer and business are taking turns typing (or speaking) in a near-real time manner. (Are phone calls included? I'm not sure.) This includes chat and messaging, of course. Either a human agent or a bot could be on the other end of the conversation.
Also included under this umbrella are the technologies of natural language understanding (NLU), virtual agents, and interactive assistants.
Multi-Channel / Multimodal / Omni-Channel / Optichannel
For many years, the contact center industry has been using the term "multi-channel" to describe the transition from communicating by phone only, to communicating by email, chat, and social media. It was this shift, in fact, that resulted in the renaming of the "call center" to the "contact center".
In parallel, retailers have been using the term "omni-channel" when talking about how the in-store experience relates to the experience on the phone and through web and social channels.
Those two terms have now collided. Most physical retail chains have an ecommerce option, and many consumers are using their smartphones while in-store. On top of that, in-store employees are often using the company's website to field customer questions. Meaning, the online experience is also the employees' experience, becoming – indirectly – part of the in-store experience.
"Multi-modal" has a very close meaning to multi-channel. ContactBabel defines the three thusly:

Another approach to the three definitions is offered by 24-7 via this graphic.
As you can see from the above images, there is overlap and redundancy between the terms depending on whose definition you use. Having tracked this issue for the last five years, we don't see a cleaner consensus emerging any time soon.
This year, another word joined this family: "Optichannel". It means using the best channel for a particular customer performing a particular task.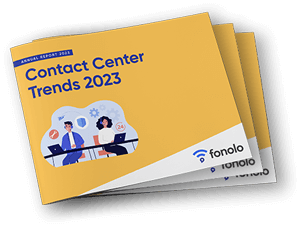 Trend Alert! Contact Center Industry Predictions for 2023
This report offers perspective on where the contact center industry stands today, plus our trend predictions for 2023.