Most businesses understand the value of exceptional service and how it can make-or-break customer retention. The truth is, people genuinely remember positive interactions, specifically when phoning into your contact center, and they use those experiences to guide their shopping decisions. Surprisingly though, many organizations still need to be convinced that excellent customer service is essential to their success. They're clearly stuck in a time when the key to winning customers was solely based on the quality of your product and not particularly in the service you deliver.
We're here to set the record straight once and for all, and to prove that things have changed when it comes to customer loyalty. If you haven't made outstanding customer service a top priority at your company yet, these 7 facts will make you think twice:
1. The Buying Experience
70% of buying experiences are based on how the customers feel they are being treated. (McKinsey)
2. Consistency
9 out of 10 customers expect to receive a consistent customer experience over multiple channels. (Synthetix)
3. The Value of Loyalty
On average loyal customers are worth up to 10 times as much as their first purchase.
(White House Office of Consumer Affairs)
4. Social Media Repercussions
88% of consumers are less likely to buy from companies that leave complaints on social media unanswered. (Conversocial)
5. The Voice Channel
Consumers prefer the voice channel over any other medium. (eConsultancy)
6. Competent Agents
78% of surveyed customers say that competent customer service reps are most responsible for a happy customer experience. (Genesys Global Survey)
7. Unhappy Customers
For every customer complaint that are 26 other unhappy customers who have remained silent. ("Understanding Customers" by Ruby Newell-Legner)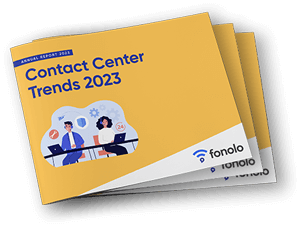 Trend Alert! Contact Center Industry Predictions for 2023
This report offers perspective on where the contact center industry stands today, plus our trend predictions for 2023.