Right now, the only news story you'll see about Twitter is speculation who will acquire the $16B company. (Latest rumor: it's Disney or Microsoft.) Twitter hasn't seen the user growth investors expected and, as a public company, its fortunes are at the mercy of those expectations. (Even though those expectations aren't always reasonable or relevant.)
Regardless, the company hasn't stopped evolving its product. Lost in the buy-out chatter was an announcement that, I think, is quite significant: The introduction of specialized "customer service accounts". This is the second time this year that Twitter has shown it recognizes its unique advantages in this area. It is willing to adapt to the needs of customers and companies who use it as a support channel and that could prove more valuable in the long-run, than all of its current schemes to goose ad revenue.
Twitter Adapts to Customer Service, Part 1
In February, Twitter fixed one of the major problems with customer service interactions: The awkwardness of switching from a public to a private conversation. The fact that all conversations default to public is actually the main reason Twitter became such an important channel for support. (Because, if companies didn't reply, they faced public shaming.) But once a conversation began, it often needed to move to private to protect sensitive information.
Before, the February fix, that required the user to "follow" the company. That was awkward because it was not aligned with the general purpose behind "following". (I don't want to add all future messages from this company to my timeline – especially not its support messages – just to have this one-off interaction with them.) So Twitter fixed this:

Twitter Adapts to Customer Service, Part 2
Then a few weeks ago, Twitter introduced a feature that solves another long standing problem. Large companies often have multiple Twitter accounts and it isn't clear, without checking out the timeline, which is the right one for offering customer service. For example, T-Mobile operates @TMobile and @TMobileAtWork but customer service queries should go to @TMobileHelp. Now Twitter is allowing companies to label the right account with a "Provides Support" icon. (Your humble blogger suggested this last year.)  Delta, T-Mobile and United have already activated the feature on their accounts @delta, @united and @TMobileHelp.

The Battle to be the B2C Support Channel
What's at stake here is quite valuable: Which messaging platform will become the de facto channel for text-based customer support? Whoever wins that prize also wins a valuable position in the e-commerce landscape; A position that can be used to gain advantage with brand selection and even payment method. (Twitter experiment with a "Buy Now" button last year. I expect it to resurface again.)
Facebook made its big move in this direction last spring, with the opening of Messenger for Business, followed by unveiling a bot platform. They've seen some early success.
But the fight is far from over. Rogers Cable, was an early adopter of Messenger, but now, is spreading its bet by offering Twitter support too.
The big question is, can any platform (Facebook, Twitter Snapchat, Kik, Line, etc) "win" the B2C crown? The fact that WeChat has seemingly "won" China, and achieved near dominance for online customer service, adds fuel to this fire. (My take on that: Will the WeChat Model Work in the West?)
If one platform doesn't take the lead, will companies have to do what Rogers is doing and be active on multiple platforms? We don't seem to be settling on a clear winner, so I think the answer is yes. Furthermore, I think the longer the game is a toss-up, the better it is for Twitter. It plays directly into their strength: Discoverability.
Twitter's Strength is Discoverability
Imagine a consumer called Bob. He wants to communicate with a company, but doesn't know on what channels that company is active. Bob knows some companies respond to SMS, some on Messenger, some have chat features on the website and some are on Twitter. But Bob has limited patience for exploring all these options. If the first few don't work, he'll give up and just dial the phone number.
Twitter, with its public timeline, has a unique advantage. Bob doesn't have to send a message and then wait to see if there is a reply. On Twitter, a company's responsiveness (or lack of same) is readily apparent. This "de-risks" Bob's search for the right channel. One of Twitter's weaknesses – it's public nature – turns out to be a key strength.
Everyone is looking for the "WeChat of the West" (e.g. Re/Code, Wall Street Journal, TechCrunch or GigaOm) implying a "winner take all" scenario. But I suspect WeChat's rise to dominance was a result of unique circumstances in China, and unlikely to repeat again.
The scenario more likely to play out here is fierce competition among messaging platforms. While that battle rages on, my bet is that Twitter continues to cement its role as de facto customer service channel, even if it lags in functionality. This will be a huge asset in the long run. Their current management team gets this. Let's hope the new owners, whoever they are, do too!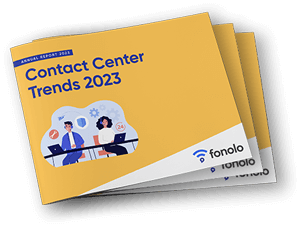 Trend Alert! Contact Center Industry Predictions for 2023
This report offers perspective on where the contact center industry stands today, plus our trend predictions for 2023.