Are you ready to discover the latest technology and services to improve operations? We invite you to join us at this year's ICMI Contact Center Demo & Conference taking place October 25-27 in Dallas, TX.
In this ever-changing era, the modern contact center must find new ways to manage intensifying pressures placed upon the industry. By attending ICMI's Contact Center Demo & Conference executives will learn how to achieve and exceed the expectations set for today's contact center. You will also find a demo hall full of the latest technology and services to prepare you for the future, as well as plenty of opportunities to network and learn from your peers who have experienced and conquered some of your same unique challenges. The benefit from that kind of face-to-face interaction is priceless!
Consumers are pushing for tremendous change from contact centers, and leaders in the industry are on the hunt for the latest innovations and best practices. This conference gives us the opportunity to demonstrate in-person how our call-back solutions can help lower abandon rates, smooth out volume spikes and improve the customer experience.
– Shai Berger, CEO, Fonolo
While at the conference…
Conference attendees will have an opportunity to meet with Fonolo by visiting booth #807 where they can learn more about cloud-based call-back solutions.
For live updates and insights from the show – follow @fonolo on Twitter.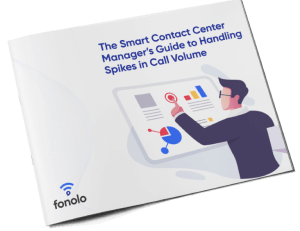 How to Manage Call Spikes in the Contact Center
Download this free guide to learn how to protect your contact center from call spikes.