Did you know that not all call-back solutions are created equally? If you've deployed virtual queuing in your contact center that has been bundled alongside a suite of other solutions, you've probably hit the rock bottom of call-back solutions. It's true when they say you get what you pay for, and if an enterprise solution like call-backs comes free, it may actually hinder your customer experience rather than improve it. If you feel like your call-back solution isn't really doing much to reduce caller abandonment, lower cost-per-call, boost agent morale or have your customers raving, you might want to dig into the root causes for this.
Let's discuss 3 common instances that point to a failing call-back strategy:\
1. You Put Customers Back on Hold After They Receive a Call-Back
If your call-back system uses an algorithm to determine when an agent is available, you're likely to run into this problem. When customers request a call-back, I assure you they don't expect to be placed back on hold when they answer the phone. Don't do customers an injustice just to call them back sooner. The more transparent you are with proper call-back times, the better. First of all, customers want to be ready to answer your call. Second, call-backs should show customers how much you value their time; putting them back into a queue gives the reverse impression.


Plus, this call-back method is not only jeopardizing your relationship with a customer, it's also increasing your cost-per-call. More sophisticated solutions allow you to hold a customer's place in the queue using a SIP or PSDN connection, rather than the traditional line, which saves your call center money at the end of the day.
2. You Only Offer Call-Backs One Time During the IVR
So, you give customers the option to receive a call-back at the start of the IVR. A couple things can happen: a) the customer misses the prompt or b) the customer forgoes the option because they don't mind waiting on hold. The result? If they miss the prompt, they're completely out of luck and might end up waiting on hold longer than they anticipated. Or, if they elected to wait on hold and then something else comes up, like they're suddenly called into a meeting, they'll be forced to abandon the call and restart the whole interaction at another time. Call-backs should be offered multiple times throughout the experience so your customers have options.
3. You Don't Offer Call-Backs on Web or Mobile
Your customers are using different channels to reach you, and web and mobile are among the first places they'll start. If a customer has an inquiry while navigating your website but doesn't care to call into your 1-800 number they should have options. By including a scheduled call-back through web, potential customers can continue to research your product or simply do other things while they wait for an agent to reach out. Some people want to avoid the IVR completely and this benefits the different attitudes and personalities of your customer base.
If your solution sounds like any of the above, it might be time to explore a new strategy. If you're still unsure, ask yourself whether you have access to call-back data. If your existing solution is not equipped with a portal or overview of how the system is performing, you are missing key metrics that can help you with KPIs and improve your bottom-line.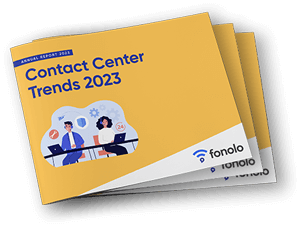 Trend Alert! Contact Center Industry Predictions for 2023
This report offers perspective on where the contact center industry stands today, plus our trend predictions for 2023.