Which social channels do you turn to for customer support? Twitter? Facebook? Maybe even a direct message on Instagram? Over the years, social media has taken a minimalist approach to B2C support. But despite its architecture, social media remains a hot spot for customer service. In recent years, Twitter has undoubtedly become a key player; 80% of customer service requests on social media happen here, and the cost per resolution is 1/6th that of resolving through a call center. Additionally, Bain & Company found that when companies use social media to actively engage customers on service-related issues, those customers will spend 20% to 40% more on average with that company.
As other social platforms catch up to the customer service game, time is of the essence to perfect your social support strategy.
Here are 5 things to keep in mind when handling customer support on social media:
1. Don't Act Nonchalant
We see it all the time, a company replies to a frustrated comment on social media and acts shocked or surprised by the complaint. Meanwhile, there are thousands of other people experiencing the same problem. Don't try to deceive your customers; be transparent. If your call center is experiencing long hold times, don't reply to a customer by saying, "Good Morning! Is there anything I can help you with?" Well yes, the tweet clearly stated the issue, now it's the agent's job to address it directly. The proper way to respond to anger tweets is to reply empathetically but conversationally, otherwise you risk making the situation worse. We like this one from TMobile:
@onholdwith  Oh no, on hold. I will take care of all of your needs. #RightHereRightNow. DM me, for help now. TinoB.

— T-Mobile Help (@TMobileHelp) November 25, 2016
2. Strive for 'First Contact Resolution' on Social
Only 2% of customers who were given an email address or telephone number on social asked for it in the first place. Though social media isn't always the best place to resolve an issue, many times customers truly prefer to use this channel to communicate. Despite its limitations, learn how to adapt to social conversations, not just for contact escalation.
With that said, it helps to have background information on customers and the option to reach them directly to quicken support. One option is to use Twitter's 'Fabric' application, which links a customer's phone number or Twitter credentials to their account with your company. This means that whenever they send in requests, agents will know exactly who they are, and can provide relevant, personalized services.
3. Be On Time
So you waited a few hours, or even a whole day to address a customer complaint, what's the big deal right? Well, research shows that 40% of customers who complain on social media expect a response within one hour and a lack of response could result in up to 15% customer churn! If you're lucky, the customer will resolve the issue through another channel, but what if you're not so lucky? That's a lot of lost customers over a completely preventable issue.
Ensure you have timely automated responses to simple customer inquiries, and if a subject is more complicated, you should still reply saying you're looking into the issue and will get back to them shortly. That immediate response might make the difference between a loyal customer and a lost customer.
4. Look Beyond Your Notifications
Fewer than 3% of customers tag or '@' mention a brand on Twitter. This is arguably even less on other social networks. So it's important to look beyond direct notifications for customer complaints. For example, when you're mad at your friend or even your spouse, you might not directly come out and say it. You might wait for them to recognize a problem and make the first move towards resolution. This can work the same way for B2C relationships.
Yes, it will take extra time and effort but if you've integrated a social CRM solution like SproutSocial – which tracks your company name, even if it wasn't tagged directly in a message – it can simplify this process. Agents can now recognize who those passive aggressive customers are and reach out in the nick of time to rectify an issue.
5. Consider Chatbots for Social Support
Facebook recently took a huge step towards innovation by enabling chatbot support through messenger. These 24 hour automated agents can help users with simple use cases like bookings, reward redemption, and many other straightforward queries. Though the technology has not fully matured, it can play a huge role on the efficiency of your call center, and the value proposition of your social support. By enabling chatbots on social, businesses can eliminate frequently asked questions inundating their call center, thus smoothing out volume and giving agents more time to handle complex issues (it also helps reduce agent burnout).
A word of caution: Chatbots are not foolproof; but they are a cost-effective 24/7 option for today's social media and self-service savvy consumer.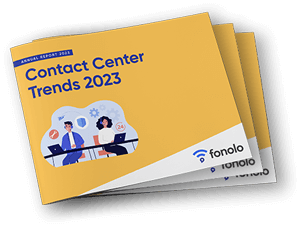 Trend Alert! Contact Center Industry Predictions for 2023
This report offers perspective on where the contact center industry stands today, plus our trend predictions for 2023.