Waiting on hold for customer service is one of life's pet peeves, made worse if the call center is struggling with high call volumes. I recently read a great analogy about what it feels like to call customer service today. Imagine being a child again and asked to do your math homework – a subject you're unfortunately not very good at. You end up procrastinating for as long as possible because, deep down you know it will take much longer than expected. Somewhere in the process, you'll be throwing up your hands in frustration. Speaking to a live agent is amazingly similar to doing your dreaded math homework.
Calling customer support is an annoying task that often becomes overwhelmingly frustrating. First, you've got to find the correct phone number for your region, then you have to listen to the maddening automated system to navigate your way to the right department, and more often than not, you'll be stuck with some elevator music while you wait on hold to speak to an actual human. If call volumes are spiking, it will take even longer.
In an effort to make this experience a little less frustrating we've constructed some ways that you can avoid hold time and get an answer to your question quicker.
Here are 5 tricks to follow:
1) Take Your Problem to Twitter
When people are stuck on hold, they often talk about it on Twitter. By resorting to Twitter you can publicly shame a company for forcing you to wait on hold. Be sure to include their handle and any popular (yet relevant) hashtags so it gets picked up by other Tweeters.
One hashtag we recommend is #onholdwith. Onholdwith.com is a site that scans Twitter for EVERYONE waiting on hold and categorizes them in real-time by company and industry name (magical). The site provides a quick dose of reality for anyone who believes their customer service line is operating flawlessly. Here's a great example of a Tweeter waiting on hold and ensuring her tweet is catalogued on the site:
I'm #onholdwith @axainsurance. #28minutesandcounting Absolutely ridiculous and wasting my time at work. Do you ever answer the phone?

— Nat Ilenkovan (@natilenkovan) December 28, 2016
If companies respond to your tweet (which they should) be sure to ask for a special offer to appease you for the inconvenience.
2) Pretend Like You Speak a Different Language
Ok, I know this is a strange one, but a little bird told me it actually works. Most large companies offer a second language option (in Canada it's French, in the USA it's Spanish). Go ahead and press the number for the second language.
At this point, you are transferred into a queue for that language. Just hit "0″ a few times and you will get to a rep. They will answer in the language that you chose, but if you start speaking in English, and you don't tell the rep that you intentionally hit the opposite language, you may have saved yourself a ton of time! The call center workers are all bilingual and the wait times are almost always shorter for the queues that offer the less popular language option.
3) Jump on Live Chat – It's Instant
We phone customer service because we want instant gratification. If we email it will likely take 24 hours for a response if we search self-service but the question isn't commonly asked we'll hit a dead end, and if we tweet but the resolution requires a more in-depth explanation the rep will just tell us to call the contact center. At this point, you just need an answer and live chat might be the perfect medium for this kind of support.
Of course, you'll need access to your computer or phone, but you'll likely experience a quick resolution with the added benefit of a conversation log, which you can't get after a phone conversation. The problem with chat is that if you hit a roadblock, and the agent simply can't help you any further, it's back to the phone. The other problem is that you have to start all over again as most companies don't have a chat-to-voice escalation plan, but it's worth a try before the phone call is made! Unfortunately, the voice channel is a fail-safe route.
4) Get Customer Service to Call You
When you're forced to phone support because all other avenues have failed, and you have to squeeze the call in at 9:00 AM on a Monday, chances are you'll be waiting on hold. You may not even be angry about the issue you're phoning about, but because you're stuck on hold the rage just begins to build. However, today there are easy fixes to this common call center problem. Rather than forcing you to wait on hold, a call center could offer you a call-back. Meaning you have the CHOICE to either wait on hold or request to have an agent call you when it's your turn in line.
Call centers who do not offer this feature either don't see it as a priority, or they're operating on old software that doesn't allow them to use this modern solution. However, they might not realize that even though their call center is on a legacy platform, they can still utilize the benefits of today's call-back solutions – so there's really no excuse not to offer this feature. In fact, if the organization doesn't offer you a call-back it's a clear representation of how they value your business.
5) Time Your Call
Although there's no single best time to call a contact center, there are some days and times that you could avoid if the call is not urgent. Mondays and Fridays in a call center are almost always busier. Meaning more people are phoning on those particular days, especially if the call center is closed on the weekend. It's also more likely that staff are absent on Mondays and Fridays.
In terms of timeframes, the period between 10 AM to 12 PM always tends to be busier. It makes sense too; people at work are calling during their breaks, parents are calling after dropping their children off at school, etc. You can expect "higher than normal" hold times during these periods, so if you can avoid it, why not?
Surveys regarding customer service dissatisfaction consistently show that waiting on hold is a top complaint. Hopefully, these tricks make the task a bit more pleasant, or the call center is smart enough to use call-back technology.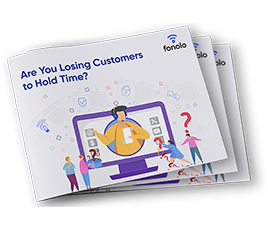 Are You Losing Customers to Hold Time?
Download our free whitepaper and learn about the best way to eliminate hold time and improve the customer experience.