Is your business stuck in the past? Too comfortable or resistant to change? For many leading brands, reinventing or pivoting is a natural part of growth and development, but for others it's an ongoing battle. The common reaction of, "Oh no, we can't do that, what if our customers don't like it?" stems from not understanding your customers' needs and wants. A strong brand not only recognizes what matters to their customers, but also understands how to deliver it. That's the motivation for our newest vlog series, #GetToKnowYourCustomersDay. We want you to see your customers on a personal level, their likes, dislikes, and how they interact with your brand.
We've narrowed down a few industries that have great potential for development: finance, travel, healthcare, and retail. Each episode will feature a diverse selection of customers being asked some tough questions: How do you see this industry today? What's missing? What is a standard interaction like? What do you want out of your experience?
The #GetToKnowYourCustomersDay video series will be shared via Fonolo's YouTube channel, so be sure to subscribe for the freshest content.
Here are the vlogs you can look forward to, and when:
Finance – "How to Get Millennials Excited About Banking"  –> April 20th
Travel – "Airlines: Are You Going the Distance for Passengers?" –> July 20th
Retail – "Why the Customer Experience Is Important for Shoppers" –> October 24th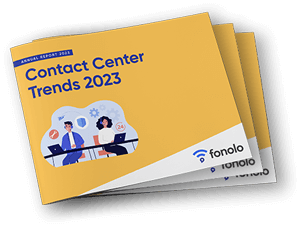 Trend Alert! Contact Center Industry Predictions for 2023
This report offers perspective on where the contact center industry stands today, plus our trend predictions for 2023.