Industry watchers have been on the edge of their collective seats over the last year, wondering how Avaya is going to resolve its financial troubles. On Thursday, Avaya ended the speculation by announcing that they would enter Chapter 11 bankruptcy.
Aspect's successful bankruptcy last year is an obvious comparison, one that even CEO Kevin Kennedy made in his announcement. But another comparison that folks are throwing around is Nortel's disastrous bankruptcy from 2008 that took over 7 years to resolve. Which model will Avaya follow? That's the big question, and we're grateful to have some big brains weigh in…
A Long-Time Coming
Avaya's struggle with its legacy debt has been well known for many years. Here's some of our previous coverage:
In the last year, we've seen other large companies restructure debt through bankruptcy (Aspect), divest, and rename (LiveOps / Seranova), and get acquired (InContact / Nice, InIn / Genesys). But Avaya's move last week has the potential to cause much more disruption.  For the call center industry, this isn't just any company. Avaya's products, partnerships, and reseller network dominate this space like no other player.
Big Brains and Influencers Weigh In
Dave Michels
"My guess is the endgame that splits the company into separate businesses (contact center, UC, and networking) will continue. I also expect that several of the interested parties that failed pre Chapter 11 will return to the table… That said, I don't expect the asset sale/auction we saw with Nortel; because Avaya has a viable business under all that debt. The judge will examine various options … and unlike [CEO] Kevin Kennedy, [he] doesn't require agreement from the debt holders. That's good news. The bad news is Chapter 11 is hell. Avaya will pay a steep price in terms of lost revenue, customers, employees, and goodwill. Accounts will be lost, and competitors will be stronger. Avaya filing Chapter 11 will dominate industry news for months (and half the stories will be about the end of telephony). Everyone will know Avaya is in bankruptcy. Fewer will know if it's chapter 7 or 11, and still, fewer will know when it's all done and over. "
Read more: http://talkingpointz.com/avaya-running-out-of-options-to-avoid-ch11/
Sheila McGee-Smith
"For months, speculation has been that Avaya would sell its contact center business in order to pay down debt, leading to a more sustainable capital structure going forward. CEO Kevin Kennedy stated that such would not, in fact, be happening…. The contact center business has been called the 'crown jewel' of Avaya by many…  One can imagine that Avaya contact center partners do face less uncertainty with the business staying as part of Avaya than they would have with it as a separate entity. Many, though certainly not all, Avaya contact center partners also offer unified communications solutions and a single, unified Avaya is simpler for them."
Read more: http://www.nojitter.com/post/240172269/avaya-keeps-crown-jewel-contact-center
Blair Pleasant
"I believe that Chapter 11 was the only viable solution for Avaya –no one was willing to buy the company and take on its debt, so that was a non-starter. Breaking up the company into piece parts, particularly selling off the contact center business, also didn't make sense, as Avaya's contact center solutions are so closely tied to its unified communications solutions. Filing Chapter 11 gives Avaya a chance to restructure while continuing to invest in R&D, which is key. What concerns me is that while this is the first step, the actual details of the restructuring still have to be worked out in consultation with key stakeholders and the court, which means there's still uncertainty. While the Chapter 11 filing may not impact existing customers, I'm not sure how many new customers will be willing to take a chance with Avaya. As the Chapter 11 filing only impacts U.S. operations, I expect the company to show continued success with its networking business, which is bringing in new customers from around the globe."
Kevin Brown
"Avaya's comment of moving to Software as a Service seems to me like buzzword bingo. Perhaps it is a condensed version of their strategy, but it doesn't resonate within the contact center end user community, nor with me. The Nortel acquisition was in 2009, when the market clearly had already moved away from hardware. What makes anyone think they have their strategy right this time?"
Jon Arnold
"Industry-wide, there's a collective sense of relief, and while nobody welcomes Chapter 11, it removes a lot of uncertainty among both buyers and sellers. At least Avaya now has a clear path forward, and with no takers for select pieces of the business, the contact center landscape becomes more stable. For me, the big takeaway is that the company is growing, well-managed, performing well, and heading in the right direction technology-wise. The move to Chapter 11 was a financial decision, not a business decision, and I'm hoping that cooler heads will prevail in terms of the bigger picture. This is not a replay of Nortel, where reckless spending, greed and corrupt management ruined the business. Avaya has certainly been beaten down, but there is a healthy foundation to re-build on, and I think the market is better off having them in the game even if they emerge as a smaller player."
Jeremy Watkin
"The contact center will continue to shift away from premise-based to the cloud, and phone will continue to trend toward sharing its spotlight with email, chat, SMS, social, and others. Make no mistake; even though customers have more ways than ever to contact support, the goal is still to maintain one conversation in one central location. This puts the onus on cloud-based platforms that can support this. I'm certainly interested to see if Avaya, by shedding hardware in favor of software, can remain relevant in this rapidly evolving marketplace.
Omer Minkara
"Transparency with existing and potential clientele as well as partners will be crucial for Avaya to successfully emerge from the Chapter 11 process. The company has a strong solution set across networking, communications and contact center markets. Aspect's Chapter 11 process last year has taught us that keeping customers and partners well-informed on the details and quickly emerging from it are important to successfully navigate through the process. It is therefore also important for Avaya to take quick action working with debtors and authorities to minimize the time span of this process. Doing so will ultimately determine if the company will face significant erosion in market share due to confused or concerned customers and partners or if it will quickly recover to maintain and grow its share with a healthier financial structure."
Esteban Kolsky
"The chickens have come home to roost – it's not possible to redo a giant hardware-based vendor into a nimble cloud-based provider"
BCStrategies Podcast
If you want further thoughts on Avaya's future, and you're in a listening mood, BCStrategies released a podcast yesterday featuring ten more "big brains":  Nicolas De Kouchkovsky, Roberta J. Fox, Joseph Williams, Dave Stein, Steve Leaden, JR Simmons, Jon Arnold, Marty Parker, Phil Edholm, and Dave Michels.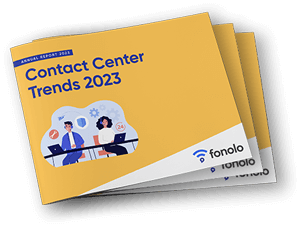 Trend Alert! Contact Center Industry Predictions for 2023
This report offers perspective on where the contact center industry stands today, plus our trend predictions for 2023.