Between multi-channel strategies, keeping up with consumer demand, and maintaining service levels, running a successful contact center today is no easy task.  With the enormous effort involved, many call centers are turning to outsourcers for help. Although some executives are hesitant to let a function of their business go, others realize that outsourcing a specific function is the best solution. Even the largest of corporations outsource entire departments to firms that have the time and expertise, along with a level of dedication to high-quality performance.
But what kind of promises should a BPO make to their call center clients? What makes them the most ideal outsourcer to choose? Here are four simple commitments a call center BPO should make.
1. Create a Contract that Defines SLA's
Your BPO of choice should define the specific standards and benchmarks that they will meet for you. They should have a clear understanding of your SLA's and a strategy on how they will be met. Typically, they'll determine the number of agents you'll receive and the skillset required to meet and exceed SLA's. If you're a new call center still determining what your service level should be, consider the 80/20 rule.
2. Embrace a Corporate Culture that Mimics the Call Center
A BPO is an extension of your brand. Meaning when a customer calls your contact center and reaches the BPO, they won't know the difference. BPOs should operate so effectively and seamlessly that every call impersonates that of an internal operation. They should embrace your company culture, mimic employee benefits, and develop a space that embodies your brand.
3. Provide Transparency and Clear Communication
Trust and transparency are vital for meeting expectations and maintaining a healthy client-partner relationship. Your BPO should provide a clear and concise strategy, focussing on your KPIs. If your goal is to provide high-quality experiences that foster customer loyalty, your BPO should explain how they'll achieve, measure, and manage that for you. Reporting is key, as it will be a clear reflection of success.
4. Address Automation and the Human Touch
Although BPO's are expected to deliver technology-led innovation on an ongoing basis, automation can come at a price when not executed properly. In fact, the advancements in technology-led automated services such as AI, machine learning, and RPA (robotic process automation) could impact more than 5 million jobs in the next three years. Make sure your BPO commits to outlining their 5-10 year plan with respect to automation so you know how this will affect your ongoing relationship. To learn more, join Fonolo and BPO experts on Thursday, February 23 at 2:00 PM ET as we take a deep dive into BPO automation.
Here's a sneak peak at the slides!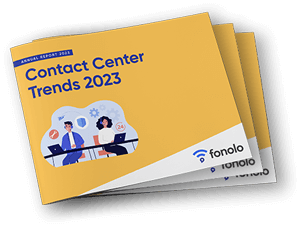 Trend Alert! Contact Center Industry Predictions for 2023
This report offers perspective on where the contact center industry stands today, plus our trend predictions for 2023.