So, your customer base is constantly growing but your call center is at max capacity. You're now looking for an affordable solution to begin ramping up customer support. Your next logical step is to contract a third party provider, otherwise known as a BPO (Business Process Outsourcing). BPOs can provide tremendous benefits to your business, such as cost savings, better quality, and a more efficient call center.
But don't get too ahead of yourself. Although this option could be the answer to all your problems, it could also be the biggest headache you've ever had, if not researched properly. It's important to note that not every BPO is created equally, and there are certain factors to keep in mind when picking the right one for your business.
We look at 5 tips to help you through the process of choosing a BPO:
1. Quality Assurance is Fundamental
You have expectations in place for your customer service team, and you don't want to lose them during the outsourcing process. It's worth looking into the vendor's track record and performance, to determine if that's the kind of service you want for your business. The first step to qualifying your BPO is to see if it has been certified with a national association. Another way is to ask for client testimonials and knowing the type of industries they service. If you're in health and finance, you'll have a different set of requirements compared to retail. It's also advisable to interact with managers and other team members before signing a long-term contract. We explore this further in the next tip.
2. Manage Risk and Don't Sell Yourself Short
Begin with a pilot project to deliver proof-of-concept first. Innovative providers will establish metrics for common processes to compare their performance against your benchmarks for those same processes. Important issues will be brought to your attention during this time such as reporting, performance, and scalability, which are all equally significant in choosing the right BPO. In order for you to measure whether or not your BPO is a cost-effective investment, it's necessary to consider all of these factors before moving forward.
3. Keep IT Capabilities Top of Mind
IDC predicted that 75% of software enterprises and independent vendors will include AI functionality in at least one application by 2018. Therefore, BPOs embracing new technologies are likely to be more future-ready and have a stable outlook moving forward. With this in mind, frequent visits from a senior engineer from the off-shore vendor to the client site during the design phase can help ensure a clear project understanding. The same goes for you; visiting your outsourcing service provider can give you a perspective you might miss from afar.
Finally, how can you ensure a BPO will be able to deliver on technical timelines? Have them sign a 'Staff Augmentation' contract. This ensures integration is taken care of by default.
4. Visibility and Reporting is Key
Part of the integration process is to set up a clear reporting and management tool between you and your outsourced team. Even though you won't be there physically, you still want to be calling the shots. Therefore, having easy access to frequent reports provides insight into how your BPO is performing and allows you to set goals and metrics for your outsourced team. Recommended reports include:
Weekly internal status report
Monthly management report
Customer Satisfaction Report
Furthermore, to ensure deliverables are met and maintained, the vendor should be easy to get a hold of. There should be a designated point of contact for you to reach out to at any time for the duration of a project.
5. Ensure they are Financially Bulletproof
This is a particularly turbulent time for BPOs, politics and AI are threatening the space, which makes deciding even harder. Take time to look into the BPO's financial health and even the economic outlook of the country it's located in. If the industry is predicted to take a dive in a certain geographic location, it's probably wise to look elsewhere. If everything looks good from an geo-industry perspective, take a look at their financial history, current holdings, and growth potential. If a BPO has previously gone bankrupt under the same management, you might want to reconsider.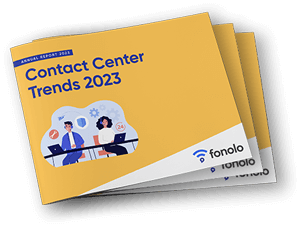 Trend Alert! Contact Center Industry Predictions for 2023
This report offers perspective on where the contact center industry stands today, plus our trend predictions for 2023.