To automate or not to automate? That is the question many Business Process Outsourcers (BPOs) are asking today. The global BPO sector is under tremendous pressure with the rise of technology-led automated services such as AI, machine learning, and RPA (robotic process automation). According to The World Economic Forum, these advancements could impact more than 5 million jobs by 2020. So, what does this mean for the BPO industry and the agents currently driving its operations?
Forward-thinking CIOs know that agents are the backbone of their organizations and, although converting to automation is a top-priority for improving the customer experience, the need for human capital still remains. Therefore, BPOs must be strategic about executing these new systems.
Is Your BPO Future-Proof?
As the customer demand for self-service rises and the cost of technology declines, it's important to consider which technologies can benefit your BPO. Automation comes at a price when not executed properly:
For decision-makers, it's imperative that technology is properly implemented prior to displacing a company's workforce. If you're uncertain about how to future-proof your BPO, you need to watch this live conversation unfold, as we hear from industry experts about automation and the changing role of humans.
We talk about:

The Growing Demand for Automation
The New Role of Humans on the Front Line
Best Practices for Training and Implementation
Plus so Much More!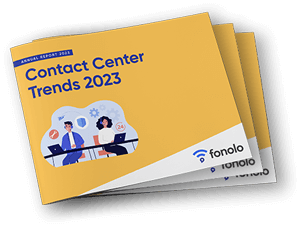 Trend Alert! Contact Center Industry Predictions for 2023
This report offers perspective on where the contact center industry stands today, plus our trend predictions for 2023.