Historically, great customer service depended on one thing: people. Call center agents acted as the main liaison for delivering a positive or negative customer experience. But in our world of multi-channel communications, the need for speed has changed the game. According to Forrester, 73% of people say that valuing their time is the most important thing a company can do to provide them with good service, which is why hold times present a major challenge for the customer service industry.  If your business offers support, then you know how demanding customers can be, and how important reducing wait times are to overall satisfaction levels.
To understand how companies are handling hold times, Fonolo launched the website onholdwith.com, which tracks complaints on Twitter from people waiting on hold. We found that these companies had the highest mention of hold time complaints on Twitter. Recently, Fonolo's CEO, Shai Berger had the chance to speak with ABC News: 7on Your Side with Michael Finney to discuss how this social media uprising can lend a hand to eliminating hold time for good. See the full clip below:
These are no "alternative-facts"; the voice channel still remains a trusted channel for customer service. A recent report by Dimension Data found that, "people want to engage with service provider and communication companies in a way which is familiar to them". As customer expectations increase, hold times have become a competitive differentiator. If businesses want to reduce customer churn, they shouldn't be putting customers on hold, ever.
The bottom-line: Hold times are getting in the way of great customer service, yet there are simple proven solutions that can eliminate hold times for good. Fonolo's call-back option is a good start. Want to learn more? Read these helpful documents:
If you've successfully deployed a call-back solution, and still experience low satisfaction scores, it's worth looking at your social support channels as "35% of customers say digital technology isn't meeting current needs". Businesses need to learn how to better utilize social media as a support channel. Twitter found that customer service interactions have increased 250% in the last two years, and Dimension Data found that social media has become the preferred contact channel for everyone under 25 years.
However, having a designated support team just isn't enough anymore. Customers want service and they want it now; speed of resolution is the key to successfully using this channel for support. Consider looking into a social media monitoring tool like SproutSocial or chatbots for Facebook messenger. For more helpful ways to improve customer service and the experience, take a look at these trend whitepapers: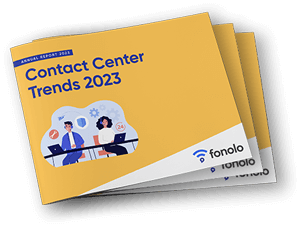 Trend Alert! Contact Center Industry Predictions for 2023
This report offers perspective on where the contact center industry stands today, plus our trend predictions for 2023.