Celebrated on February 2nd, Groundhog Day is when we wait in anticipation to see the groundhog emerge from its burrow. If he sees his shadow, there's supposed to be six more weeks of winter, and if there's no shadow it means that spring is near. For me, it always brings back memories of the "Groundhog Day" movie, where Bill Murray wakes up every day experiencing the same series of events he did the day before.
This had me thinking about the endless loop of tasks your call center and its agents perform on a daily bases. Realizing how common Groundhog Day and your call center are, I thought it best to illustrate some tips and tricks to avoid being trapped in the duties of your workday.
Empower Agents
It's a great feeling when your ideas and strategies are put into place, but most call centers don't give their agents this opportunity. If you're one of them, you're certainly missing out. Frontline agents truly understand your most important asset, your customers. They likely possess a wealth of knowledge just waiting to be used. By empowering them beyond support calls and allowing them to reflect on critical issues, you're ultimately taking their job to a whole new level, while creating a strong agent culture.
Consider a Diverse Workday
Have you ever considered buddying up agents? It's actually a simple initiative to implement and really allows agents to create diversity in their workday. Have agents listen to each other's calls in group sessions and discuss good aspects of the call along with areas of improvement. Encourage learning and growing in a group setting so that agents can form relationships and improve their overall interactions with customers. This methodology also produces consistency, from the consumer's perspective. A proper buddy-up system creates one voice throughout the organization, regardless of the agent.
Make the Most of Idle Time
The key is to focus on keeping agents engaged. Having them stare into thin air or play with their phone during slow periods of the day does not accomplish this. One idea is to use this time to incorporate agent training. Some types of training are web-based and can be picked up and completed in segments. Gamification is another approach for training, where you can include competitive activities and rewards for winners.
Implement a Reward System
To encourage teamwork, consider compensation based on group-wide performance. This emphasizes the importance of the team and encourages an environment of sharing and mentoring, leading to increased employee satisfaction. If agents fully embrace your customer experience mantra they should be rewarded – it's that simple.
Invest in Technology
Finally, make sure to arm your agents with the right technology. This can be anything from the right chair to an intelligent CRM system. If you're worried about budget, remember that some technology aids in lowering costs and can improve the experience for both customers and agents. For example, call-back technology makes life better for customers by eliminating hold-time, while simultaneously reducing abandon rates and telco costs in the contact center.
Give them a Good Laugh
If you really want to boost morale and help break up a dull day, send out a mass email with a YouTube clip like this one! Our favorite internet Groundhog is sure to brighten their spirits and get them through the rest of the day. Personally, I crack up laughing every time.
Employees who are truly engaged are ultimately your top performers. Start with hiring the right call center agent, and retain the good ones by eliminating the robotic nature of the role. Be sure to empower your reps to make out-of-the-box decisions, reward them for their good work, and keep them informed using the right technology.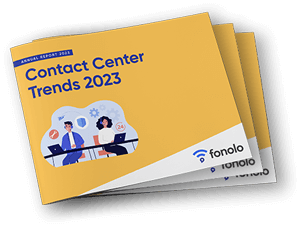 Trend Alert! Contact Center Industry Predictions for 2023
This report offers perspective on where the contact center industry stands today, plus our trend predictions for 2023.