Every time a customer comes in contact with your brand, whether it's in-store or online, each interaction is a touch point that contributes to the customer experience. Consumers are demanding more, and their choices are ever expanding, which means that better service will lead to greater customer loyalty.
Here are 5 customer service mistakes that are negatively effecting your support operations.
1. Ignoring Customers on Social Media
As a consumer, if I'm tweet venting, I'm pretty upset. Not only do I want the brand to know about my complaints, but my ultimate goal is to have the issue go viral so that appropriate action is taken to rectify the situation. There is nothing worse than simply being ignored on social media. At the very least, acknowledge the complaint and make some sort of effort to correct it.
2. Trying to Hide Your Customer Support Number
WHY!?!? This is absolutely maddening. If a customer wants to call you, make it easy for them to locate your number. You will only upset them more, increasing their anger and frustration right before they make the call. Your customer service agents don't deserve to get the brunt of these complaints.
3. Taking a Long Time to Answer Chat
If your chat window is open, but all agents are fully utilized, why would you show that chat help is available? It could take several minutes just to send a greeting message. That's a long time for a customer who's waiting to address a simple inquiry. Their attention span online is quite short and you don't want them closing the window and having to start over again. Rather than making this mistake, find a way to disable the availability of the chat feature when agents are fully utilized and are unable to address customers in a timely manner.  '
4. Hiring the Wrong Contact Center Agent
The continuous challenge of agent churn has nothing to do with your ongoing operations, and everything to do with your hiring process. Hiring the right customer service agent is incredibly important to the success of your contact center. After all, onboarding committed, motivated, and qualified agents helps your call center achieve its purpose. Make sure you prepare a solid list of questions for each candidate, score them based on their answers and be sure to ask for references. This is a great way to ensure that you've hired people that fit your ideal agent profile.
5. Putting Customers on Hold
You CANNOT provide an exceptional experience if you leave customers waiting. When your phone service is not up to par, consumer frustration grows. Their rage doesn't just end on the phone; customers will candidly share this information with the rest of the world using numerous social media channels.
We, the folks at Fonolo, created a way for consumers to productively use their 'on hold with' time and let companies know how they feel. We feel that greater awareness of the problem will increase the likelihood of change in the call center world. The moral of the story is you do not want to be listed on this site.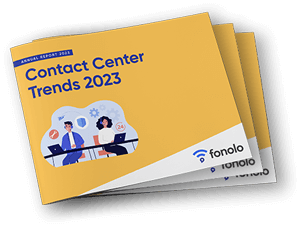 Trend Alert! Contact Center Industry Predictions for 2023
This report offers perspective on where the contact center industry stands today, plus our trend predictions for 2023.