According to Dimension Data's 2016 Global Contact Center Benchmarking Report, omnichannel integration is set to triple from 22.4% to 74.6% in the next two years. By 2020, the demand for omnichannel support will be amplified by the need for nearly perfect execution. The pressure is on for contact center leaders across every size and industry to deliver on these expectations.
In our webinar on Thursday, March 23rd at 2 PM ET / 11:00 AM PT, we ask customer engagement experts Maudree Gardfrey at PACE, and Shai Berger at Fonolo about how to tackle a successful omnichannel strategy head-on.
Register now for our enlightening panel discussion on the omnichannel contact center.
Here's a sneak peek at the slides!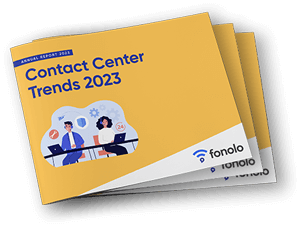 Trend Alert! Contact Center Industry Predictions for 2023
This report offers perspective on where the contact center industry stands today, plus our trend predictions for 2023.