The contact center is becoming quite the paradox. It must be open-ended but also secure, both customer-centric and employee-centric, legacy-based yet modernized, and the list goes on. The reasons why are fairly simple: Consumer demands are continually evolving and so are the channels used to communicate those needs. The problem is that technology advances at a much faster pace than the contact center is able to adapt to, at least, for now.
The contact center industry is currently in a transition phase, where legacy systems will be refashioned by modern ones, and the once 'low-level' agent positions will be replaced by robust technology. It's essential that your contact center is built for the future. And while the thought may seem daunting, there are a number of new ways to resolve the problems that will erode the success of call center operations around the world.
Here are the 10 biggest trends that can help call center professionals stay ahead of the curve.
1. Omni-Channel Communications (in an Omnichannel World)
As call centers expand their omnichannel offerings, making cross-channel experiences seamless will be more important. The ability to escalate from channel-to-channel was once a luxury, however, today's customers demand nothing less. Surprisingly, though, only 36% of contact centers can track a customer journey that spans multiple channels, and only 17% can locate problem hotspots that impact the customer experience. This is a major concern for most contact centers, as customer expectations are only going to increase. By 2020, the demand for omnichannel support will be amplified by the need for nearly perfect execution.
The image below, from the 'Inner Circle Guide to Omni-Channel Customer Contact' by ContactBabel, reveals the current state of multi-channel, multi-modal, and omnichannel offerings by contact centers.
It's clear that most contact centers have adopted multi-channel, however only an average of 12% describe themselves as omnichannel.
For a contact center to be truly omnichannel enabled, all applications must be able to seamlessly identify, route, and switch interactions between agents and channels, while keeping all relevant data intact. Given this massive undertaking, it's quite likely that many organizations are currently in the process of doing just this, and are simply not accounted for in the most recent surveys.
2. Go Digital or Go Home
There is no doubt that digital channels are on the rise, and have been since the mobile boom. Greater access to information and the convenience of doing business on the go means that call centers must configure their applications to be agile and responsive. In fact, people under 55 years of age now rate mobile applications as a top choice for customer service channels.
As contact center leaders begin to catch on to the importance of user-friendly online customer experiences, digital channel planning is set to increase by the following percent over the next 12 months:
Web chat: 44.3% to 81.1%
Mobile apps: 41.6% to 75.45%
Social media: 51.4% to 76.1%
A digital transformation strategy is going to be key as the cost of mobile bandwidth goes down, and omnichannel / machine-to-machine communications advance. In the example below, 1st United Services Credit Union unified their multi-channel communications strategy by deploying Fonolo on their mobile app and on the "contact us" page of their website. This allowed customers to request a call-back from an agent, no matter what channel they were browsing from.
3. 'Hello?' Is it the Voice Channel You're Looking for?

For many years, telecom marketers have predicted that the voice channel would eventually fall by the wayside of its digital predecessors. Today, we are beginning to see that. Although customers are using more channels besides voice, many of those interactions often still end up on the voice channel. The truth is that although channel diversity is needed for speedy communications, the telephone still remains an important avenue for solving complex issues.
ContactBabel surveyed 221 contact center managers and found that 63% of the time, they believe the telephone is still the best method of communication for complaints. Although digital channels are growing in popularity, the phone still handles 57.7% of interactions.
So, how can contact centers provide the highest degree of care on the voice channel?
Two key elements are needed:
1. Training:  Proper, consistent, and ongoing training will help to ensure those voice interactions are met with quality and precision.
2. Technology:  Hold times have always created a concern for customers using the voice channel and must be eliminated at all costs. Cloud call-back solutions like Fonolo have been around for a number of years, but many call centers are still unsure if it's the right fit for their business.
Tip:
If your contact center cares about the customer experience, wants to reduce abandon rates, and decrease telco costs, then a cloud call-back option is a must-have solution for 2017.
4. Measure Your Performance and You'll Go Far
This year, contact centers will see an increase in the number of implementations for performance management solutions. This is needed for both in-house and remote agents, as the option to work from home is now a reality for many growing call centers. However, this can create some concern for operations managers who must regularly evaluate their workforce both near and far. While 89% measure the quality of voice, only 50% measure performance on digital channels, down from 61% last year.
Analytics, once beneficial for gaining insight into customers, is now equally useful for understanding agent performance, with 7 out of 10 managers agreeing that it has increased productivity and the customer experience. In 2017, more contact centers will recognize the impact of tracking analytics and be able to use those benchmarks for future growth.
5. Social Media − a Not-So-Secret Weapon
Hootsuite released a report this year which found that there are over 2.7 billion active social media users, for a global penetration of 37% and an annual growth rate of 21%. Social media as a support channel remains the first choice for customers under 25 but has yet to gain the same trust and acceptance by other age groups. Though the majority of businesses have observed the need for social support, 29.3% of them are still not utilizing it; instead, they're redirecting customers to another channel. This is a temporary fix for a market base that is only growing by the day, and will play a very important role in the future of customer support.
It is absolutely necessary to have an effective social media presence, otherwise, a brand might look like it's intentionally disconnecting from its customers.
Consumers want a place they can go to give quick feedback, vent, and interact with their favorite brands. Responsive social support teams see this trend as an opportunity to create a unified customer experience.
On the flip side, any negative comments can be detrimental, and if they go unanswered it can make potential customers suspicious. The video below is a special report by ABC7 on Your Side news, highlighting the growing need for online customer support, as the voice channel suffers from long hold times. Make social media a goal in your contact center this year. Whether it's developing a team, improving training methods, or deploying a social media management solution, this trend isn't going anywhere anytime soon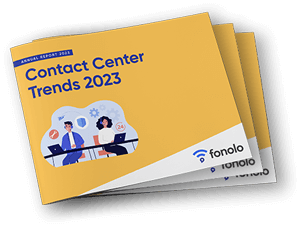 Trend Alert! Contact Center Industry Predictions for 2023
This report offers perspective on where the contact center industry stands today, plus our trend predictions for 2023.